OPPO N1 Mini is the mini variant of OPPO N1, which many proclaimed as a great phone, too big to handle. OPPO N1 Mini tries to ape its sibling and bring the same user experience to a smaller form factor. This is no mean task and let's see if OPPO N1 succeeds.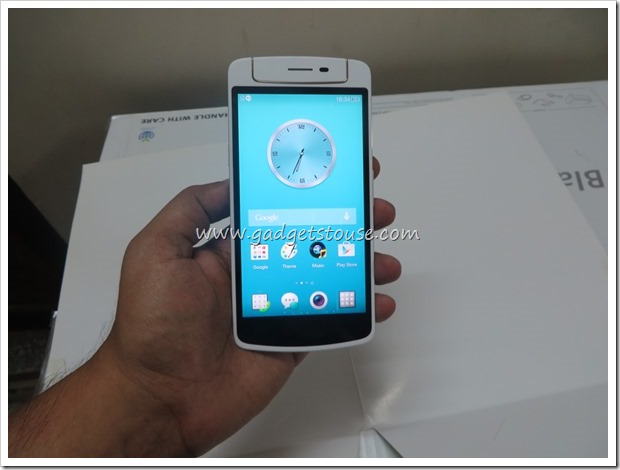 Oppo N1 Mini Quick Specs
Display Size: 5 Inch HD IPS LCD, 1280 x720 resolution, 294 PPI
Processor: 1.6 GHz Snapdragon 400 processor with Adreno 305 GPU
RAM: 2 GB
Software Version: Android 4.3 Jelly Bean based Color OS
Camera: 13 MP camera, Capable of 1080P video recording
Secondary Camera: rear swivel camera doubles as front camera as well
Internal Storage:  16 GB
External Storage: No
Battery: 2140 mAh
Connectivity:  HSPA+, Wi-Fi, Bluetooth 4.0 with A2DP, aGPS, Micro USB 2.0
Oppo N1 Mini Full Review, Unboxing, Camera, Gaming, Benchmarks and Overview [Video]

Unlike what the 'Mini' moniker inevitably imposes, Oppo N1 Mini is not a Mini/compact phone. It's a full fledged 5 inch display device, but yes, it looks much smaller and practical as compared to ginormous OPPO N1. OPPO is using the same premium design and quality with metal stripes running around the edges and a swivel camera on top.
No doubt that this has been meticulously designed paying attention to details and thus feels very comfortable and classy. Although OPPO has used very good quality plastic for OPPO N1 Mini, the swivel camera didn't feel as tough as the one we saw on OPPO N1. Having spent some time with it, we are assured that it will last long enough.
Since power button is present on the right edge, you have to be careful not to press volume rocker while powering it on as this can lead to fast boot or boot in recovery mode. This could be a problem for average user, especially since the battery is not removable.
The display is responsive, bright and offers good color reproduction. It's a good IPS LCD panel with optimum sharpness and good sunlight visibility. The display panel is quite good, but there is no Gorilla Glass Protection on top.
Processor and RAM
Chipset used is 1.6 GHz Snapdragon 400 Cortex A7 SoC, which has been around for a while now. The performance and benchmark scores are similar to what we are used to seeing in phones like Moto G, HTC Desire 816, etc.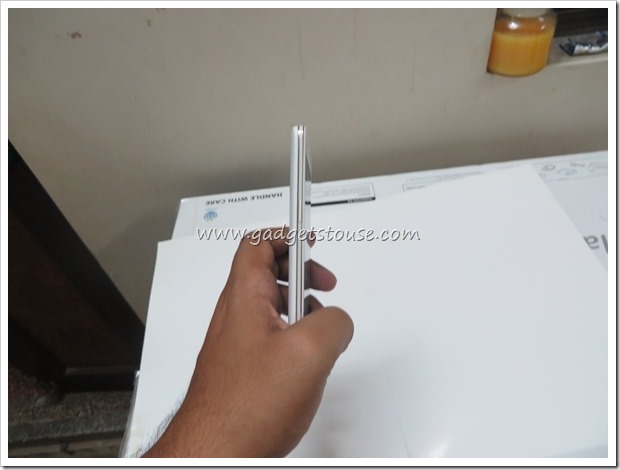 We did not face any issue playing high end games and full HD videos. The CPU can handle Color OS quite smoothly.
Camera and Internal Storage
The thirteen MP rear camera works well. The dual LED flash has been replaced by LED flash in the mini variant. Low light performance is average while in good lighting camera manages great shots. Camera UI is quite simple as well. This should be a treat for those who would like to click high resolution selfies. On the whole we liked the camera quality on Oppo N1
Internal storage is 16 GB out of which 12 GB is available to users. You cannot expand this further as there is no MicroSD card slot. USB OTG is supported thus you get to store media files in a separate flash drive.
User Interface and Battery
Color OS along with all the features loaded on OPPO N1 have made the cut to N1 Mini as well. You get the option to download from several themes as well. It's not the best Android skin, but that is a subjective matter. Screen gestures are quite handy and work well on OPPO N1.
Battery capacity is 2140 mAh and you can manage around 4 to 5 hours of screen time, which should translate to 1 day usage for most people. Again battery life isn't impressive, but it should be good enough for most basic users.
OPPO N1 Mini Photo Gallery
Conclusion
All flaws would have been forgiven and all positives accentuated, IF, OPPO had managed to price it between 15,000 to 20,000 INR. In competitive Indian market 26,990 INR is quite high for a moderate internal hardware, no matter how attractive the packaging might be. OPPO N1 is a solid, sturdy and beautiful Snapdragon 400 powered device which does justice as a mini variant of OPPO N1 and perhaps will appeal more to those obsessive with selfies.