Xiaomi is now the third largest smartphone manufacturer in the whole world (in third quarter) and the company has retailed 17.3 million units last quarter, up from 5.6 Million units same time last year, thus accounting for 5.6 percent of all smartphone shipments last quarter.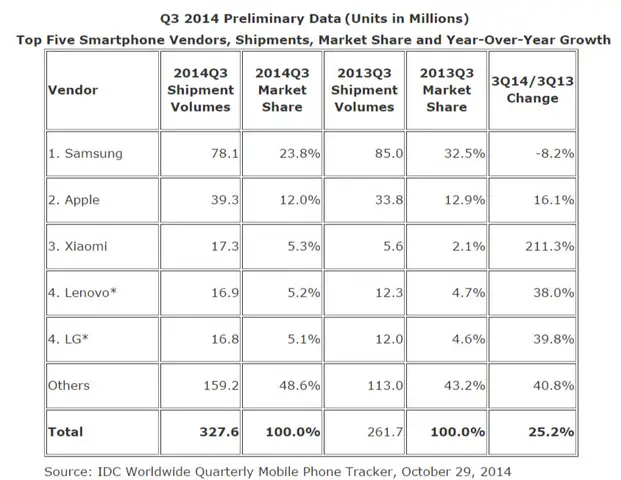 Xiaomi beat LG and Lenovo to reach the third spot. At the top of the food chain is Samsung with 78.1 million shipments followed by Apple with 39.3 million iPhones shipped. Despite being at the top, Samsung has lost significant market share. Xiaomi is expected to continue its journey uphill, while expanding its operation overseas.
Samsung reports that its revenue has fallen by 15 percent this quarter. The main reason cited is decrease in shipment of high end smartphones and the stiff competition in low cost budget Android segment. This is the second consecutive quarter where Samsung has seen steep decline in revenue.
"Despite rumors of a slowing market, smartphone shipments continue to see record-setting volumes. We've finally reached a point where most developed markets are experiencing single-digit growth while emerging markets are still growing at more than 30% collectively. In these markets, smartphone price points are making mobile computing possible where we once expected feature phones to remain dominant. This is great news for overall volumes, but the challenge has now become how to make money on devices that are quickly becoming commodity products. Outside of Apple, many are struggling to do this," said Ryan Reith, Program Director with IDC's Worldwide Quarterly Mobile Phone Tracker.