Opera Mini rolled out the new version of its browser application – Opera Mini 9 for the iOS platform on Thursday. It is claimed that this new version will let bring the new video boost feature that will minimize the video buffering time. This is possible with the Rocket Optimizer engine from Opera's Skyfire division that will reduce the size of video data, thereby saving the data as well time.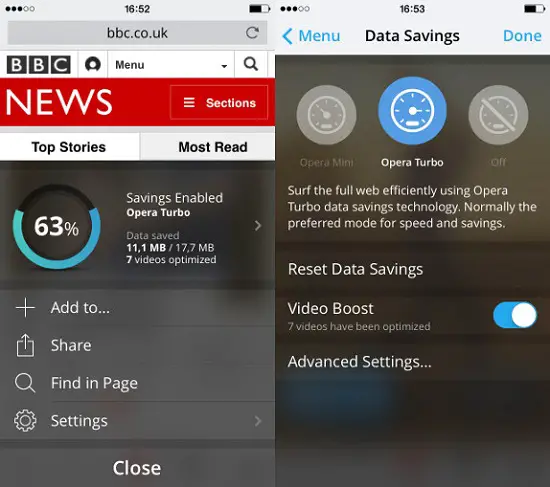 The Opera Mini 9 for iOS is available for download from the Apple iTunes Store right for free. The video boost feature can be enabled from the Opera Turbo mode. Under the O menu in the updated application, tap on the data savings summary to change the mode. The feature will also show how many videos it has optimized. Besides reducing the buffering time, the video boost feature will also add extra options for editing the Speed Dial website shortcuts, a revamped data savings gauge and support for iPhone 6 and iPhone 6 Plus.
According to a research, 49.6 percent or more consumers in the global markets are experiencing issues with mobile video frequently. Consequently, this new Opera Mini 9 application will be of help as it will provide an all new video watching experience on mobile.
Regarding the new feature,  Lars Boilesen, CEO of Opera Software, said, "This is the first time video optimization has been integrated into a web browser, so your browser can now take pride of place as your favorite video app. Video snags are a small problem, but an annoying one — a pothole on the internet highway. And Opera fixed it."
Opera Mini 9 for iPhone 6 and iOS 8 Review, Features and Overview[Video]