Android 5.0 Lollipop or Android L is one of the biggest Android update so far. Of course it will be fully cherished only on device running stock android. Good thing is that most budget Android phones in India are not from Tier 1 manufacturers and run almost Stock ROM. There is a lot to get excited about with the new Android L and here is what will make a significant difference.
Material Design
In spite of all new features, Its Google's new unified and consistent design language which makes Android 5.0 Lollipop a breath of fresh air. Everything about Android has been changed. There are new animations, icons, bright rich colors, new navigation keys, new recent apps panel and lot more that has changed for good.
Google further extends this to all stock android apps thus further enhancing your experience. Most other popular apps have also been updated with the new Material Design UI.
Improved Battery Life
Project Volta aims to boost battery life and some significant improvement will be seen with Android 5.0 Lollipop. A new task scheduler API is used which checks on apps waking up your device. Tasks are now scheduled in groups or for opportune moments like when your phone is charging.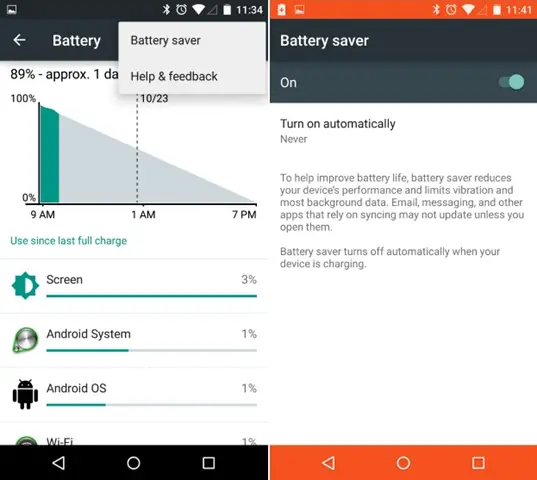 The battery historian app has also been included which will provide with detailed battery analysis, and thus it will be easier than ever to identify rogue apps. Most custom ROMs come with a battery saver mode and now Google will include one in stock Android. The ART runtime, which is now the default runtime, will also contribute its bit in improving battery efficiency.
Security
Google no longer want to give an impression of an insecure platform and is quite serious about making a point. Android 5.0 Lollipop will have all data encryption enabled by default. A password will be required to factory reset your phone or tablet.
Google also wants you to use a screen lock and thus has made this a little simpler. If a trusted Bluetooth device is nearby, your phone will bypass the lock screen. You can also allow certain notifications to be accessible even via lock-screen and thus don't have to be bothered by unlocking your phone every few minutes. Then there is SELinux Enforcing mode for all apps and several other features which have been added to enhance security
Sharing Your Device
Andorid L comes with a guest mode which allows you to conveniently share your smartphone/ Tablet with anyone without any risk of prying on private data. You can also create separate accounts for different family members each with its own name, settings, password and even bookmarks.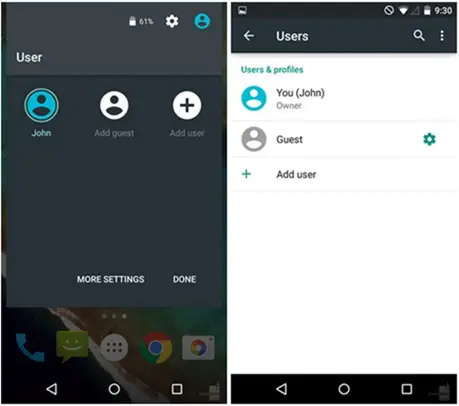 Then there is an option to pin an app to your screen. This allows anyone who shares your device to meddle with just one app and not your entire phone. It will be a lot easier to share your device without risking privacy.
Much Needed Improvements for Easy Setup
Setting up an Android device could be a huge pain. Fortunately Google has made life a lot easier with Android 5.0 Lollipop. If both devices have NFC, you can simply hold them together and mirror everything from one to the other including apps, data, settings, home screen icons, widgets,etc using Bluetooth.
If not, you can opt for the more conventional way and sign in with your Google Account. Here too, you get the option to choose which device you wish to restore from! For those who use multiple devices, this can save a lot of time and hazel.
SD Card Restored
All the SD Card freedom which was curtailed with Android KitKat has been restored, perhaps in a more secure manner. Applications can now have read and write access to directories on removable storage, even the ones that they don't own, but only if you allow them too.
Whenever you install an App from PlayStore, you have to accept certain permission. Developers can now add permission and ask for what folders on SD card the App is allowed to access. Developers can also ask for access to entire SD card or a particular folder.
Notifications and Priority Mode
You can now better customize your notifications, which look like Google Now cards, and can also have them on your lock screen. How you interact with them remains unchanged. Good thing is, that you can individually select which apps you want to trigger notifications and which ones you don't.
Also by swiping down the notification panel, you get to quick settings, which is a much appreciated change. Here you will find a dedicated button to change your Priority and Interruption settings. You can also change these preferences from settings>>Sound and Notifications.
Priority mode can be activated simply by volume rocker and in settings you can select any app and activate block, priority, or sensitive. The sensitive notifications won't be shown on lock screen. Priority notifications will get through even in priority mode. And also, dismiss all notification button is back on the notification shade
Google Now is a lot more accessible
Google Now is now accessible from all home-screens, which is a good thing for those who love and frequently use Google Now. For Nexus 6 and Nexus 9, 'OK Google' hot keyword works even when the screen is off. Even the recent apps panel has a Google Now search bar on top.
Multitasking
The recent Apps panel undergoes several modifications. You can now have Google Chrome tabs listed like apps in the recent task panel, though this is optional. The Google Now search bar persists in the recent apps panel as well. Even after you reboot, all cards in the recent apps panel remain intact which is a good thing.
Some Other Cool Android 5.0 Lollipop features:
Quick setting includes battery percentage and flash light toggle
Clock background adjusts with the time of the day
New Sharing menu with Android beam as an option
New and more efficient Google Keyboard
Apps can record screen without root
Print preview and the ability to select a specific page range when printing
continue a Wi-Fi call or video chat when you leave your home Wi-Fi and switch to data.
Support for more languages, with new additions being Basque, Bengali, Burmese, Chinese (Hong Kong), Galician, Icelandic, Kannada, Kyrgyz, Macedonian, Malayalam, Marathi, Nepali, Sinhala, Tamil and Telugu