Over the last week, we carried a report stating that WhatsApp is working on an update that will let users to disable the read receipts option. This feature was rolled out to the application without an update and be letting people see specifically when a message is read with two blue tick mark. Consequently, there were numerous privacy concerns regarding this feature since its arrival.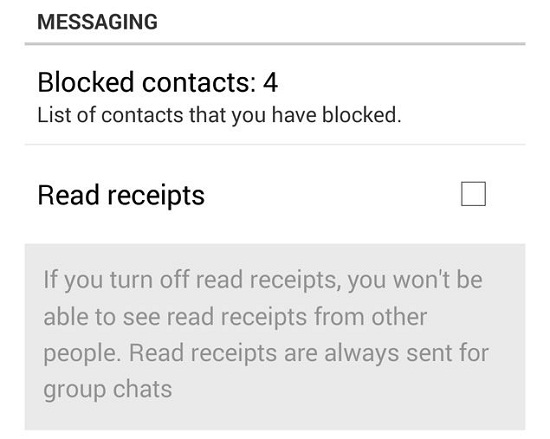 Now, WhatsApp has come up with an option to disable those annoying blue ticks, but the catch is if you do disable it, you will also not be able to see the receipts. Eventually, if you like to know when other read your messages, you will have to let them to see when you have read their messages.
However, this is possible only for Android users and will work only when the application is manually updated via the official WhatsApp website. Here we list the steps that should be carried out to get the latest APK file of WhatdApp.
Download the latest version of WhatsApp APK, version 2.11.444 from the official website.
After downloading the latest version of the app, head on to Settings -> Security -> Check Unknown sources. This will enable installing applications out of Google Play Store. The exact path for this setting might vary based on the device's manufacturer and the version of Android it runs on.
Lastly, open the APK on your Android smartphone and it will install the latest version of WhatsApp.
Once the app is installed on your phone, you can follow these steps to disable the read receipts feature.
Open WhatsApp and tap on the three vertical dots icon at the top right.
Go to Settings -> Account -> Privacy and uncheck the Read Receipts option.
By following these steps, the blue ticks on WhatsApp will be disabled.
As we have mentioned above, this feature is available only on Android and it is yet to make its way into the Play Store or on other platforms. As the official WhatsApp APK comes with this feature, we hope that it will soon arrive on other platforms.