GlobalWebIndex (GWI), which is the world's largest multi-market research firm, is now getting specialized in online consumer behavior. For the same, the company has involved 32 markets that represent 90 percent of the global Internet audience. The research unveils that conversations are now moving away from traditional social networks to mobile networking.
According to the research, the mobile messaging app audience is growing steadily at 46 percent in the APAC region that uses these services. This means that two thirds of the world's mobile instant messengers are located in Asia.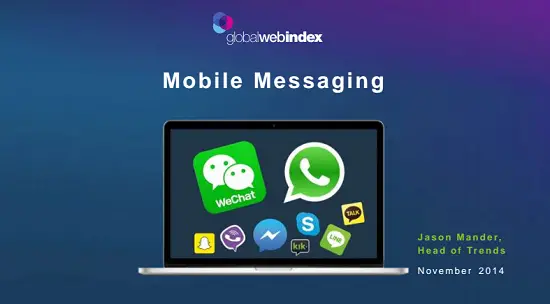 As per GWI, 45 percent of the respondents claim that this surge is because the messaging apps are free, 41 percent say that it is due to the reason that the mobile messengers are faster than social networks or text messages and another 41 percent claim that lots of their friends are using such applications. GWI has also revealed that WeChat, WhatsApp, Facebook Messenger and Skype are the top messaging applications.
Besides this, the GWI research also concludes that 40 percent of the global Internet users are using mobile messaging apps and 46 percent use them in the APAC region. Also, 31 percent of the respondents claim that such services help them send direct messages on one-to-one basis while 27 percent feel that they are fun to use.
In India, the usage of mobile messaging tools has surged to over 113 percent since 2013.  As per GWI's study, smartphones are very important to Internet users in India as 79 percent of the online population have a smartphone. Also, the mobile messenger users are young, affluent and highly active online.
In the third quarter of this year, around 83 percent of the online Indians gained access to the Internet from a mobile and this has increased the popularity of mobile messaging applications. For now, WhatsApp is the top messaging app in India, but WeChat will soon become surpass it as the latter has become the dominant messaging app globally and is used by 23 percent of the global Internet users and an impressive 39 percent users in APAC region.