Since quite sometime, we have been hearing about the rollout of the Android 5.0 Lollipop update to the yesteryear flagship model of Xiaomi Mi3. Now, an evidence for the same has popped up as screenshots of the Xiaomi Mi3 running on the Lollipop update have been leaked.
For now, there are other details regarding the update other than the leaked screenshots. Also, the ROM download link also has not been shared by the source. But, the screenshots do show that the new design does not come with all the features of the MIUI and looks like it resembles stock Android.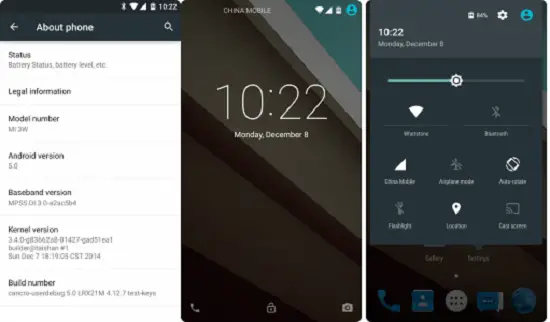 Notably, last month Xiaomi released an unofficial AOSP Lollipop build for the Xiaomi Mi2 and it looked similar to these leaked screenshots. But, the official build is yet to be rolled out.
Once the Mi3 receives the Android 5.0 Lollipop build, it will receive several new aspects including updated audio files, updated initialization settings files, new Messaging UI with more Android 5.0 style, updated stock apps UI in line with Lollipop, file explorer, bug fixes for stability, replaced stock calendar, camera and music with the Google apps and others.