Today, Micromax has taken a giant leap by launching a Cyanogen OS based smartphone called Yureka priced at Rs 8,999. The device will definitely create a revolution in the market as it comes with customizable options that were not seen on entry level and mid range smartphones launched till date. Another device that exists in the mid range market and has managed to gain enough popularity among consumers is the second generation Moto G. Here is a comprehensive comparison between these smartphones for those who seek to own a device in the segment.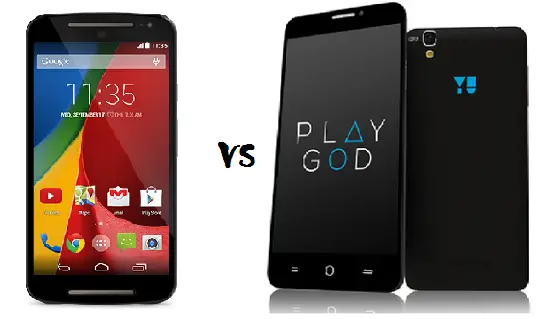 Display and Processor
The new Moto G arrives with a 5 inch display, whereas the Micromax Yureka is given a larger 5.5 inch display. Otherwise, the two screens are pretty identical as both are IPS LCD panels with HD screen resolutions of 1280×720 pixels. Also, they are layered with Corning Gorilla Glass 3 protection that makes them strong and resistant to scratches and accidental drops. Of course, there is a slight different in the pixel density of the handsets due to the difference in their screen size, but it is only marginal and does not affect the clarity greatly.
On the raw hardware front, the new Moto G is stuffed with a 1.2 GHz quad core Qualcomm Snapdragon 400 processor. But, the Micromax offering is definitely a powerhouse as it comes equipped with a 64 bit octa core Snapdragon 615 SoC with two clusters of Cortex A53 quad core processors to render a great performance. Of course, the 64 bit computing support provides several features such as improved power efficiency and lot more. While the former makes use of 1 GB of RAM, Yureka is given 2 GB of RAM that should be better in terms of multitasking.
Camera and Internal Storage
New Moto G features an 8 MP rear camera with auto focus, LED flash, HDR, panorama and support for HD video recording. Also, there is a 2 MP front facing for video conferencing and selfies. In comparison, the Micromax offering has an edge as the camera is better than what we have on the Moto G successor with its 13 MP Exmor primary camera with auto focus, LED flash, f/2.2 aperture and FHD 1080p video recording. At the front, there is a 5 MP front facing selfie camera to capture self portrait shots and for video conferencing.
Both Micromax Yureka and Moto G have 16 GB of internal storage capacities and they support expandable storage support up to 32 GB with the help of micro SD card. They both appear to arrive with standard storage aspects without any issue.
Battery and Features
The Micromax Yureka is fitted with a 2,500 mAh battery, whereas the Moto G is given a 2,070 mAh battery. While the latter is claimed to render a decent backup, the Micromax offering appears to be better as the vendor claims that the UI is optimized to conserve the battery life efficiently.
Micromax Yureka tuns on Cyanogen OS based on Android 4.4 KitKat and the new Moto G is fueled by Android KitKat. Both the manufacturers have claimed that their offerings will receive the Android 5.0 Lollipop update. The highlight of the Cyanogen OS in the Yureka is its support for Themes and it comes with couple of the preinstalled and other features making it customizable.
Key Specs
| | | |
| --- | --- | --- |
| Model | New Moto G | Micromax Yureka |
| Display | 5 inch, HD | 5.5 inch, HD |
| Processor | 1.2 GHz Quad Core Snapdragon 400 | 1.5 GHz Octa Core Snapdragon 615 |
| RAM | 1 GB | 2 GB |
| Internal Storage | 16 GB, Expandable up to 32 GB | 16 GB, Expandable up to 32 GB |
| OS | Android 4.4.4 KitKat | Android 4.4 KitKat based CyanogenMod OS |
| Camera | 8 MP/ 2 MP | 13 MP/ 5 MP |
| Battery | 2,070 mAh | 2,500 mAh |
| Price | Rs 12,999 | Rs 8,999 |
Price and Conclusion
The new Moto G and Micromax Yureka are two different smartphones that are available in the mid-range segment with decent aspects. In several departments, the Cyanogen based Yureka excels the Moto G successor with its superior aspects and low price tag. Obviously, those consumers who like to save some money on their smartphone purchase  will opt for the Yureka that is an all new effort taken by the manufacturer.