Widgets are one of the main highlights of Android ecosystem. To have regular updating information stream integrated on your home screen and work wonders for your smartphone experience. Most apps have their own widgets which you can use depending on how frequently you need to use them and how well the widget has been designed. Here we put together 5 best widgets of 2014, which you should try.
Zooper Widget
Zooper Widget presents a database of presets available in different sizes from 1×1 to 4×4 icon spaces. These can be used as they are or you can change their layout editing their position, color, angle, font and other aspects. Furthermore, you can also select the data that your widget has to display and it can be date, time and weather conditions, temperature of your phone's battery, network IP address, system uptime, data usage or anything.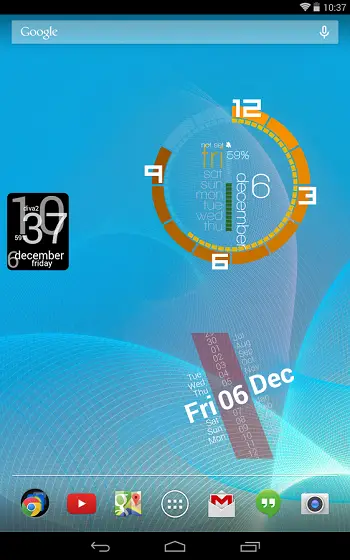 Beautiful Widget
If you regularly like to get updated with weather information on your home screen, you must try Beautiful Widgets, with several customization options. You can choose from several widgets with numerous customization options and sizes and over 2,500 themes. There is a paid version of this application as well that comes with additional useful features.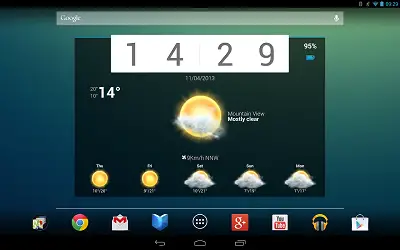 Contact+ Widget
If there are selected few contacts that you need to dial or message to frequently, Contacts+ widget can be used to keep all of these in a scrollable list on your home screen. It is not only a widget, but also an alternative phonebook and dialer for your Android device that comes with a widget. Additionally, there is integration with WhatsApp, Facebook, Twitter and LinkedIn and you can send messages without opening the original app.
Dictionary.com
Dictionary.com is one of the best dictionary apps for Android and this application comes with a very useful widget, which allows you to search for word meanings directly from the home screen. The app also pushes a new word every day, which should help you improve your vocabulary without much effort.
Power Toggles
Some Android launchers come with inbuilt toggle buttons and some phones have a widget dedicated for this purpose. However, none of the stock widgets are as functional as Power Toggles that has over 40 switches that one can customize and rearrange as per their desire and usability.
Other Widgets
Besides the ones we have mentioned above, there are numerous other widgets for useful purposes and some of them include Scrollable News Widget, 1Weather, Animated Analog Clock Widget and others.
Conclusion
You can make use of these widgets to keep yourself updated with information of your choice and they would definitely prove useful. You can enhance your user experience with these widgets and make the most out of your smartphone or tablet.