At the CES 2015, the Taiwanese tech firm HTC unveiled the Desire 826 smartphone that carries the credits for being the first ever Android 5.0 Lollipop based Desire smartphone. Back at the IFA 2014 show, the vendor came up with the Desire 820 that is the first 64 bit processor equipped smartphone. These handsets show the efforts taken by HTC in the competitive smartphone industry. Here is a comparison between the Desire 820 and Desire 826 for your reference.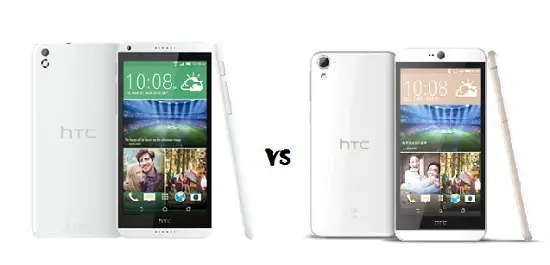 Display and Processor
HTC Desire 826 improves resolution from HD to full HD, which should be a noticeable improvement on a phablet sized display. These screens are pretty suitable for handling multimedia content without any deterioration in clarity. Furthermore, the Super LCD2 panel consumes less power and conserves the battery life of these smartphones.
They might seem to be identical in the raw hardware front as well as they are equipped with the same 64 bit Snapdragon 615 chipset from Qualcomm's stable that is based on big.LITTLE architecture. But, there is a major difference in this segment.
The Desire 826 is based on Android 5.0 Lollipop out of the box that comes with support for 64 bit computing and this will put the chipset's 64 bit functionality to use. On the other hand, in the Desire 820 running on Android KitKat, the chipset will be treated as a quad core SoC only and it will involve all the eight cores whenever it is demanded.
Otherwise, the chipset houses two quad core Cortex A53 processors clocked at 1 GHz and 1.5 GHz respectively. Also, it is teamed up with 2 GB of RAM and Adreno 405 graphics unit for a good level of multitasking and graphics rendering.
Camera and Internal Storage
The primary camera on both the smartphoness remains identical as there is a 13 MP sensor at their back with auto focus, LED flash and support for FHD video recording. The actual difference lies in the front facer and the Desire 826 appears to top in this regard. The Desire 826 comes with a 4 MP UltraPixel front facer with support for FHD 1080p video recording that will render better low light selfies and video calls against the 8 MP front facer given to the Desire 820 supporting FHD video recording as well.
Storage wise, both the Desire 820 and Desire 826 are identical with 16 GB of native storage capacity along with support for additional storage up to 128 GB with the help of a micro SD card slot. And, we do not have any issues in this regard with these handsets.
Battery and Features
The battery capacity in the HTC smartphones is similar at 2,600 mAh and this can render enhanced backup to the devices as they are incorporated with low power consuming display panel and chipset.
As mentioned above, the Desire 826 tops in the software segment as it is preinstalled with Android 5.0 Lollipop while the Desire 820 is based on Android 4.4.4 KitKat. Thiugh there is no specific time frame, the Desire 820 is also claimed to be upgradeable to Lollipop. The handsets will have the Sense UI on top of Android and this will provide access to features such as BlinkFeed and BoomSound.
Key Specs
| | | |
| --- | --- | --- |
| Model | HTC Desire 820 | HTC Desire 826 |
| Display | 5.5 inch, HD | 5.5 inch, FHD |
| Processor | 64 Bit Octa Core Snapdragon 615 | 64 Bit Octa Core Snapdragon 615 |
| RAM | 2 GB | 2 GB |
| Internal Storage | 16 GB, Expandable up to 128 GB | 16 GB, Expandable up to 128 GB |
| OS | Android 4.4.4 KitKat, Upgradeable to Android 5.0 Lollipop | Android 5.0 Lollipop |
| Camera | 13 MP/ 8 MP | 13 MP/ 4 MP UltraPixel |
| Battery | 2,600 mAh | 2,600 mAh |
| Price | Rs 24,990 | Yet to be announced |
Price and Conclusion
Both HTC Desire 820 and Desire 826 are almost similar with identical specifications in several categories. While the former is already launched in India for Rs 24,990, we expect HTC to keep the pricing of the Desire 826 also somewhere in the same range. The prime difference is that the Desire 826 will make use of the 64 bit computing support of its chipset used in it, while it will not be utilized in the Desire 820 until the handset receives the Lollipop update.