Samsung did something new and innovative with its Galaxy Note Edge smartphone. The smartphones makes convincing use of its folded display and makes the curved display technology look like more than just a gimmick. Here are 10 things which make Galaxy Note Edge unique.
Vertical Shortcut Bar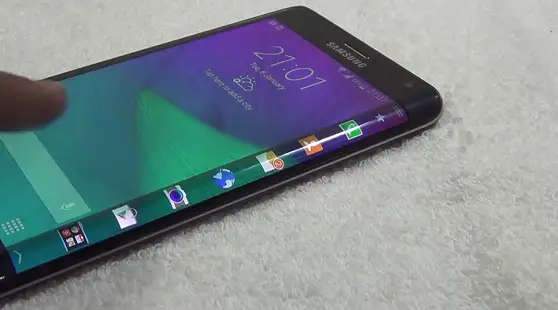 You can place all your shortcuts and folders in the side display edge which allows you to quickly access them without any trouble. You can place folders on display and add as many shortcuts you like. This helps with multitasking and in quickly launching all your frequently used applications.
Adapts to the Application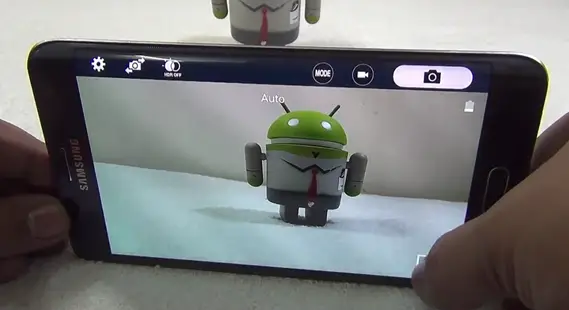 Several pre-loaded apps make use of the curved display edge. In camera app, all the controls and shutter button shift to the folded edge, thus leaving users with a less cluttered view finder and the next best thing to a dedicated hardware shutter key. Other apps like S-notes also make use of the folded edge by shifting controls to right side.
Notifications
The curved display also doubles as the status bar and mirrors all notifications. It thus uses the length of the smartphone for notifications, which can fit in more characters at a time. This is another useful feature well integrated with the side edge.
Use it as a Clock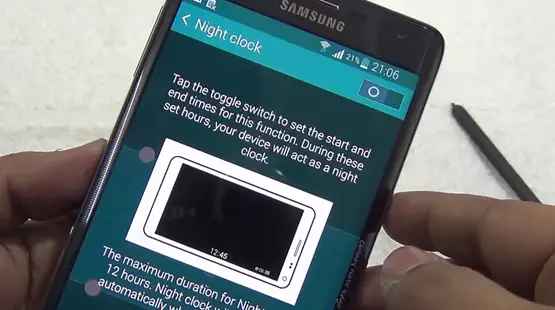 You can schedule the edge to be powered on between specific time interval and display clock and alarm. Since its an AMOLED display, only the pixels being used will drive power from battery. You can schedule the side edge to be powered on during your sleep hours and use it as an effective bedside alarm clock.
Use for Utilities
You can slide down the side edge to access several utilities. You can use this to quickly fire the flash light, record voice, control music and also as a small ruler, without lighting up the bigger display. Some of these utilities are indeed helpful. You could also access many of these features from notification toggles, but edge integration is something you will get used to in no time.
Lot of info Here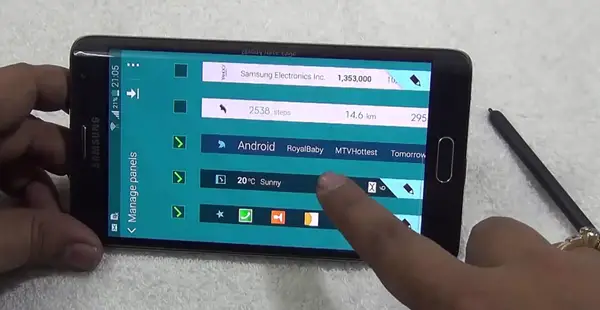 The side edge can be used to read weather updates, news, RSS feed, pedometer data, and more. You can download or select from several preloaded patters you would like to see on the folded edge. You can also use it to display stock info and updates. You can make good and productive use of this feature based on your smartphone in India
Customize Look and Feel of the Edge Panel
You can fully customize the side edge using the Express me feature. You can put any image, any wallpaper separate from the main display on the side edge. You can also change the default text "Galaxy Note Edge" to a personal label of your choice.
Stops Unwanted Palm Touches
The folded is not a huge pain when it comes to carrying the phone around. The phone is efficient enough to detect unwanted touches and doesn't fire unwanted app shortcuts from the edge when you hold it in your hand. This could have been a big practical issue, but the job is well done.
Note 4 Design and Innards
Besides the folded side edge, the Note Edge, comes with top notch Galaxy Note 4 hardware powered by 2.7 GHz Snapdragon 805 processor, medal side edge and the same rear back cover. There is a more than decent 16 MP rear camera and 3.7 MP selfie camera. Other features include 4G LTE, MHL, 3 GB RAM, 32 GB storage, MicroSD card and 3000 mAh battery.
The Side Edge
The last and perhaps the most important factor which distinguishes it from other conventional Android phones is the side edge. The side edge is a productivity tool, which finally makes us believe curved display technology is heading in the right direction.
Top 10 Samsung Galaxy Note Edge Features Review, Which Makes It Superior[Video]