The advancement of smartphones has undoubtedly replaced them as basic point-and-shoot cameras. Eventually, smartphones have become primary cameras and there are facilities to snap a photo and edit it as well using these devices. But, when it comes to viewing your artistic collections, the inbuilt Gallery app on your Android phone is definitely not of much use.
The default gallery app is suitable for simple viewing, but there are no additional options such as organizational, security or search related features. The native gallery does not support full screen preview, integration with cloud services such as Dropbox, lacks a security lock and hiding feature, will not display EXIF data of the photo and more.
To resolve these issues, there are several excellent alternatives that are available in the Google Play Store to provide you more flexibility in organizing and viewing your creations.
QuickPic
QuickPic is an excellent photo viewing application that is impressive with a very simple gallery replacement with prime focus on speed and stability. It packs a handful of additional features in order to remain competitive with other similar applications. The app focuses on crystal clear photo viewing with its custom decoder for viewing pictures that enhances the quality of viewing of your photos.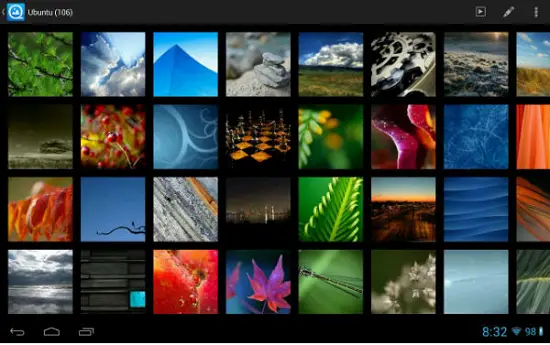 You can easily browse through largest photo collections without slowing down. The functions available in QuickPic as compared to stock Gallery app are double-tapping to zoom and pinch to zoom, basic photo editing tools such as cropping, rotating and setting wallpapers. Several options for viewing your photos are standard gallery view, grid view, list view and file explorer. You can set the Gallery replacement app to include certain folders and exclude some, hide and password protect selected photos.
Fish Bowl
Fish Bowl is one of the most feature rich gallery apps as it includes all standard photo viewing features, ability to move and organize your galleries and more. It lets you to set various albums as "favorites" so that they are pinned to the top of the application providing easy access to them irrespective of their position in your gallery list. The app allows you to set different pictures as the cover photo of all of your albums adding a nice customized feel.
The optional paid Photo Guard app provides an integrated one step resize and share option that crops and compresses your pictures and sends them to other applications in a single click. It lets you to send a picture via MMS or email much quicker and you can add notes to individual photos or entire albums. Furthermore, there are hide photos and albums option and a deletion guard to prevent accidental trashing of pictures.
JustPictures!
JustPictures! is an Android Gallery replacement app that shines as a multi-platform photo viewer and gallery capable of pulling your photos from a variety of cloud sources, social networks and those on your device enabling an easy viewing package. The app eschews editing features, but does allow users to add and edit tags to local photos.
Features available in the JustPictures! application include full screen viewing with sensor based rotation, slideshows and Live Wallpaper, zooming and panning capabilities, delete and rotate local photos, set photo as wallpaper, contact icon and email attachment, batch mode edition with features such as Favorite, Delete, Rotate, Share and Save, automatic notification of album updates, authentication of users to access private albums, password protected albums, quick access to Favorite photos and more.
MyRoll Gallery
MyRoll Gallery takes all of your photos and videos and organizes them into flayvrs based on when and where they were shot. Each flayvr is a flashy slideshow and those files that are not grouped into a flayvr are shown as smaller thumbnails between the larger albums depending on when they are captured.
There is an option to rename flayvrs, add or remove photos from them or share them via text messages or via social networks such as Google+, Facebook and Twitter. Notably, this application does not have many features to edit or manage files, but it will provide a flashed up look to your albums. The interface is very clean and intuitive and the application is absolutely free of cost to install.
F-Stop Media Gallery
F-Stop Media Gallery is a suitable application for those wanting a more powerful photo organizer on their Android devices. The application packs in loads of tools including tagging, smart galleries, ratings, favorites and other features that enable you to properly manage and categorize the photos and albums available on your device.
You can organize your Gallery contents via folders or albums for an easier access in future and also automatically sort them with smart galleries. There is an option to also custom sort the albums and photos via drag and drop. The F-Stop Media Gallery application lets you to read image's metadata, password protect selected photos and albums and exclude folders from gallery search to keep some content private. There is a pro key that will unlock more features including nested albums, ability to write metadata, and other premium features, but it is not free of cost as the application.
Conclusion
Photo galleries could appear too cluttered as they do not have all those features that you want to have. But, with the help of the aforementioned alternatives, it is easy to experience all the features and enjoy the benefits of a great gallery.