Samsung is getting circulated in several leaks and speculations as it is eagerly anticipated to launch its flagship Galaxy S6 smartphone at the MWC 2015 tech show. In the meantime, alleged photos of the handset got leaked and it looks like Samsung is planning to follow the footprints of iPhone 6 and iPhone 6 Plus in terms of design.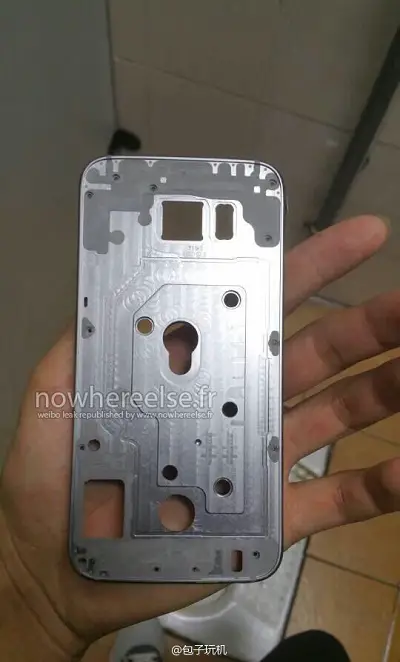 As per a KoreaTimes report, Samsung's new flagship is likely to arrive with a sealed unibody metal casing with glass material on both the sides. Notably, an executive with a parts supplier claimed that the Galaxy S6 will arrive in two versions, one with a flat screen and the other with a rounded one. Also, it was stated that it boasts of metallic build and will match the latest models from Apple in terms of looks.
Talking of the leaked chassis, there are rounded edges and the positioning of the speaker grill and USB port, metallic frame and plastic cutouts for antennas all resemble the iPhone 6. The shots reveal the presence of a side mounted SIM card tray slot hinting that the device would be thinner. The LED flash and heart rate monitor cutouts seem to have been shifted to the side of the camera.
Also, there appears to be a unibody design on the Galaxy S6 with a non-removable back panel and battery. This is the first time we might see such batteries on the Galaxy lineup as the previous models came with replaceable battery solutions. It is likely that this battery in the Galaxy S6 would be smaller in size though it will retain a similar capacity and will run cooler than in the current models.
Besides design, Samsung's new biggie will also be embedded with a technology called Samsung Pay that is similar to what Apple did with the iPhone 6 and its bigger variant. It is likely that Samsung payment solution will make use of magnetic emitting that will replicate the user's credit card in order to be acceptable in over 10 million points of sale, whereas Apple Pay includes around 200,000 spots currently.
As far as the ongoing reports are concerned, Samsung Galaxy S6 is likely to arrive with a 5.1 inch Super AMOLED display with a Quad HD resolution of 1440×2560) pixels and employ an octa core Exynos 7420 or Snapdragon 810 chipset depending on the region. It is likely to pack in 3 GB or 4 GB of RAM and a 20 MP rear camera with optical image stabilization and a 5 MP front facer onboard. The other aspects of the device are unknown and we will get a clear picture early next month.