Android Performance is the most important factor after which, smartphone OEMs have been running hard these days. Every year, we see a new development in a smartphone processor, whether it is Qualcomm, Mediatek or Intel, they all try to launch a better or more powerful processor everywhere, which could help the Android users to avoid any kind of lag on their devices. However, till now, no experiment has been a complete success.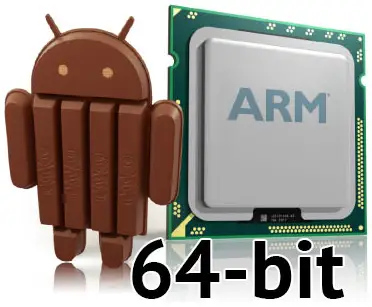 Mediatek True Octa-Core Processors have been integrated with the devices available at the price mark of 10,000 INR, which eventually lag after the usage of 5 to 6 months. Then we have high end processors of Qualcomm which are only visible with the flagship devices of these smartphone OEMs. These processor are supported by huge RAM memories and high-end Adreno GPUs, which usually reduces lag to a huge extent.
It has been tested that usually when these high-end hardware components are accompanied by a Stock Android device, then this problem of lag becomes negligible. However, smartphone OEMs cannot stop adding bloatwares on their smartphone as they hope to make their Android skin unique popular among users, which might compel them to stick to a particular brand.
Keeping all these factors in mind, one thing is for sure that powerful processors are the primary need of the Android market and that is the reason why, smartphone OEMs have started eyeing towards 64-bit architecture for their processors. Let us understand that how 64-bit architecture of the processors will help in enhancing the performance of these smartphones.
Advantages of 64-Bit Processors
In a layman language, let me tell you that a 32-bit processor can use 32 bits to point a location available in the RAM memory, which means that in a single problem, it will be able to tap the addresses up to 4GB of RAM. So, with this architecture you will not be able to use more than 4GB of RAM on your smartphone and hence here comes the 64-bit architecture of rescue.
The 64-bit processor will be able to use 64 bits, which means that it will extend the limit of 4GB memory to 4 hexabytes (4,000,000,000 GB, almost infinite). This architecture has been used by the processors embedded on the Apple devices but those device never needed such a high memory of RAM. So, yes, this architecture will definitely increase the performance of a processor, but now let us take a look that why it may not make such a huge difference.
These advantages are clearly visible when we compared ARMv7 (32-bit architecture) with ARMv8 (64-bit architecture). The number of registers inside the processor has been doubled, encryption of data has been enhanced and it still maintains the compatibility with 32-bit based software. Processors based on this architecture will definitely take lesser time in pulling the data from the memory and hence improve the overall performance of a smartphone
Are 64 Bit SoCs useless for devices with less than 4 GB RAM?Not exactly. The 64 bit register architecture is very less complicated as compared to 32 bit and the ARMv8 design on which 64 bit chipset are based is more modern and more power efficient as compared to 32 bit SoC. Some of these advantages will still hold true while processing 32 Bit code.
Why 64-bit Architecture for a processor may not be required Today?
It has been so many years and till now every other smartphone (leaving iPhone out) has a 32-bit based processor. Manufacturers like Mediatek and Qualcomm are relying on increasing the speed of these processors by increasing the frequency at which they operate or by increasing the number of cores on the same chip. Well, till now they have been successful with that as they don't seem to be using more than 3GB of RAM. Changing the Architecture which create a different class of the processors, which will mean that smartphone OEMs will cannibalize their own old products (based on 32-bit architecture).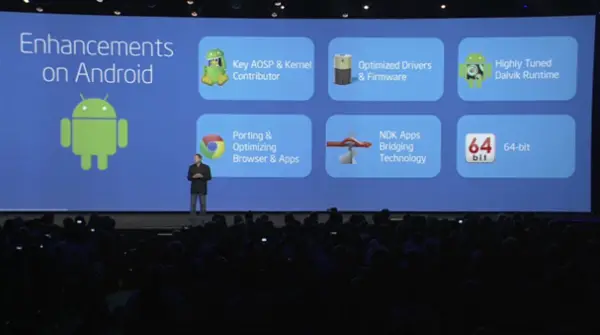 Moreover, till the last update of Kitkat, Android OS was not capable enough to unlock the potential of a 64-bit based processor but now with the upgrade of Lolipop 64-bit processors can really come in handy with the new flagship devices. Apart from the OS, even developers are not motivated enough to develop the application supporting the 64-bit Architecture and why would they, especially where the majority of applications are available for 32-bit architecture. However, it seems that with the intrusion of Android Lollipop, 64-bit processors will come into play which will further put developers into action to develop applications inclined towards this new architecture.
Current 64-bit Adoption
ARM Cortex A57 which is a tweaked 64-bit version of Cortex A15, claims to have increased the performance factor by 20% to 30% when the same 32-bit code is being run. However, a significance increase in performance is observed when 64-bit code is used on this architecture. Similarly Cortex A53 was built by tweaking on Cortex A7, which improved upon the power efficiency on the new architecture.
As far as progress is concerned then MT6795 is the first 64-bit True Octa Core Processor SoC which supports 2K Display smartphones, then we have MT6752, which is another True Octa Core Processor with 8 Cortex A53 cores. Competing in the same market and acquiring most of the flagship devices, Qualcomm plans to capture this segment of processors with Snapdragon 810 which will have 4 cores of Cortex A57 and Cortex A53 each, with the support of 4K Ultra HD Display. However, as of now they have Snapdragon 615 which consists of 4 Cortex A53 cores at 1.7 GHz and 4 Cortex A53 at 1.0 GHz, mainly focused towards mid-ranged device.
This year, we expect to see a lot of LTE supported MediaTek MT6732 and MT6752 giving cut throat competition to Qualcomm Snapdragon 410 and Snapdragon 615 in India. Phones like Yureka and Lenovo A6000 are already offering 64 bit Qualcomm chipsets under 10,000 INR.
Conclusion
They will and they should start shifting towards the new architecture. They can start with putting such processor under mid-range device to enhance their performance. ARM architecture of ARMv8 (64-bit) has already been tested on few mid-range HTC Desire devices, but no considerable amount of performance increase was observed with them. Indian consumers are the largely focused towards purchasing these mid-range device and hence this experiment can be the best way to study the hypothesis. Apart from that, as the technology advances these smartphone will end up using more RAM, so yes!! You cannot limit them to 4GB, which again concludes that 64-bit architecture is the future of increasing the performance of these handheld devices.