Sometimes it becomes convenient to download and store videos on your device for viewing them again later or perhaps when your internet connection is slow, downloading in good quality and viewing the whole thing is more convenient. Here are some of the apps and ways you can use to load your android device with offline viewing video content.
YouTube
Acknowledging connectivity woes in India, YouTube has now integrated the option to download and view offline YouTube Videos on smartphones in India. You can simply tap the download button below video caption and access them later via offline section in the menu.
However, not all videos can be downloaded offline. You can use, apps like TubeMate available on third party stores like Amazon App Store to download all other YouTube videos offline.
Using Website
Conventional websites for downloading YouTube videos, which work with Personal computers don't necessarily work on Android phones. But if you don't want to go through hazel or risk of downloading third party apps from third party stores, You can use apps like youtube-mp3.org or clipconverter.cc .
Step 1: Go to Youtube App and play the video you wish to download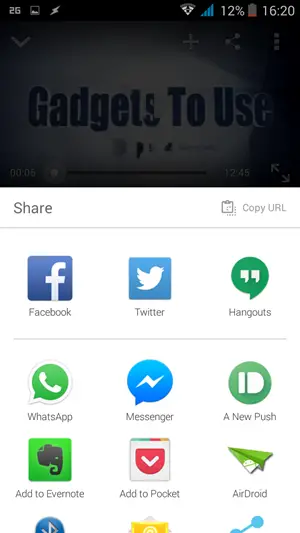 Step 2: Press the share button and click on copy URL
Step 3: Open youtube-mp3.org or clipconverter.cc in browser and paste the URL copied.
Step 4 youtube-mp3 will give you download option in few minutes, while clipconverter will let you choose preferred size and download format, before you initiate the download procedureby clicking convert and start
UC Browser
UC Browser is one of the best browsers if you wish to watch videos of any kind on the internet and to download them offline too. It offers full flash support for watching flash videos once you install adobe flash player app.
The browser will always offer option to download video or view online for most apps including facebook and other social media apps and tubes when opened via UC browser. To download from facebook you can also use apps like Video downloader for Facebook.
Videoder
You can simple use Videoder App to search for what you are looking for and download any video that surfaces in the list. The method is mostly hazel free and works best if you are downloading a popular content, but sometimes it gets tough to search the exact thing you are looking for. The app works well for youtube videos.
Step 1: Download Videoder App
Step 2: Make sure you have checked the box against Unknown Sources in Settings>> Security
Step 3: locate the downloaded file using any file explorer and tap to install it
Step 4: You can search for videos or share videos you already know where to find , for example from YouTube with Videoder
Daily Motion
Daily motion is another website rich in video content which allows you to download videos to you smartphone via Android App. You can simply click on the download button in the top option bar while playing a video.
From app settings, you can check options to allow download only on WiFi connection and the quality of video you would like to download/sync for offline. All downloaded videos can be accessed from Synced Videos option in the menu
Conclusion
One of the above apps will surely help you download video content of your choice. If you wish to download streaming videos or flash videos, UC browser will be your best bet, though it won't work for all streaming videos. There are plenty of options for YouTube videos, videos from other tubes and from social media. Besides, there are separate download sites for almost all streaming sites which can be accessed from PC, you can always download and transfer videos from PC to Android.