Truecaller has slowly and steadily become the part of many smartphone users life. The app has had some hassles here and there, but it has actually made the phonebook better and more useful. The company has now revamped its iOS app with a redesigned UI, interesting animations and a new feature called the Truecaller Search widget, which will let you see and identify missed calls more easily.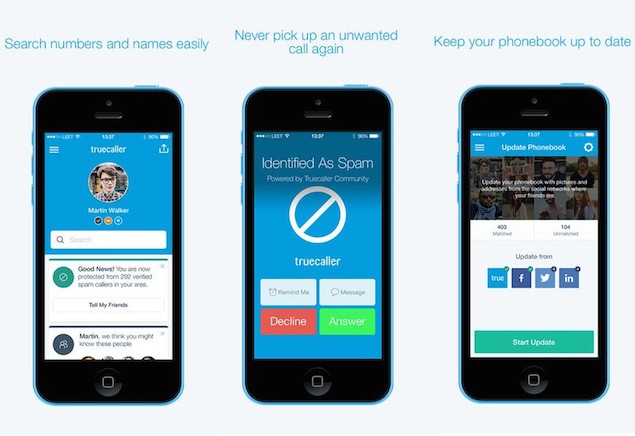 "We want to streamline and personalize the experience for our users as much as possible and a smarter design was essential to improving the experience. This is the next big step we're taking to increase the utility of our app, while helping the iOS community save time with tools they need to identify unknown numbers. We think the new Truecaller will improve the way millions of people use the service every day, and based on some of the great feedback we've had so far, we're confident that we're moving in the right direction toward our next 100 million users."
The company has a large base in India, since it claims that half of its 100 million users are based here. As far as the new features are concerned, there are some good ones here.
A a new widget feature for iOS 8 users can quickly identify a missed call. You can now just copy a phone number from your call history and drag down Apple's drop down menu to quickly see whom that number belongs to.
Truecaller will keep your phonebook up to date with relevant information by adding social media profiles and photos so you have all the contact information you need in one central place. Users can choose how they are being displayed in their friend's Truecaller phonebook by updating their profiles.
You can also search within your contacts as well as names and businesses beyond your existing phone book without switching between searching for people inside and outside of your phonebook or constantly updating the information.
The new UI is also useful. Once a user profile is pulled, you just need to swipe left to place a call or text. This one-step process makes it so easy, you can stay in touch faster and more conveniently.
We hope the update rolls for Android phones soon.