It's frequently said words usually can't do a picture justice. But sometimes If chosen wisely words can be even more powerful than any single photo filter.Adding text to smartphone pics are this present era's Sharpies onto Polaroids, permit users to add a personal, motivational or random few words.
Since the vast majority use Android mobile phones to take pictures, so we have set down some free yet intense photo editing apps that you can use on-the-go.
PicsArt – Photo Studio
PicsArt is a standout amongst the most famous photo editing apps with more than 100million installs on Android playstore. It is an one-stop application that comprises of photograph editor, drawing tools, photograph grid,collage creator and lots of other things as well.
PicsArt has its own social network which enables you to share your photos to the biggest mobile art-based group. You can make a PicsArt profile and utilize in-app purchase system buy to avoid advertisements and download different stickers to be embedded in your photos.
Snapseed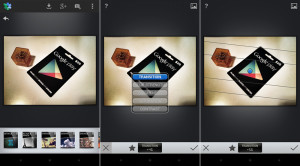 Snapseed is an incredible photo editing application made by software developer, Nik Software Inc., which is a well known plugins producer for Adobe Photoshop and Lightroom. With the application, you can without much of a stretch improve and change your photos utilizing its amazingly cutting-edge features like auto correct, selective adjust, and tune picture option.
The Auto Correct option improves colors, exposure & contrast in a single touch. The Selective Adjust option enables you to highlight and focus particular objects or zones and the Tune Image option changes brightness, white balance, immersion and different effects. Different features of Snapseed incorporate frames, composition and tone change, offering through email, and that's only the tip of the iceberg.
Pixlr Express
Pixlr Express is one of the most advance photograph editing app created by Autodesk Inc and is accessible free of charge. This app makes it easy to rapidly crop, resize, and alter any photo, remove red-eye, and whiten teeth.
It has enough options for power users as well, coupled with Photoshop-like impacts, for example, pencil, poster, halftone, water shading, portrayal, among others.
Pixlr Express is outfitted with a lot of fascinating features. You can make photo collage with such a large number of cool effects, for example, focal blur, denoise, and so on. Its Auto Fix option is the most fascinating as with only a single click the app naturally alters brightness, shading, contrast, and so on.
Pixlr-o-matic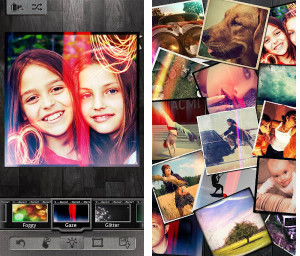 Pixlr-o-matic is a fun photo editing app that accompanies a wide range of effects, filters, borders, and overlays. This application is best known for its mixture in photo filters. With its three classification of photograph filters, light filters, and photo frames, Pixlr-o-matic enables you to totally change your photos.
The only dark side is its effect applying procedure. The app won't give you a chance to apply more than one filter from every category which you can workaround by saving the photograph and load once more. Be that as it may, its still a decent photo editor and doesn't trouble you with any sort of unwanted ads.
Cymera
Cymera is a app that is intended to be utilized as both cam and photo editor. It has all that you require in a Smartphone cam and photo editor to help you catch and alter photos.
Cymera offers wide range of hand-picked filters, shooting modes, face identification, collage effects and more than 800 decoration options. An alternate extraordinary feature of Cymera is that it enables you to overlay decorations to make photographs more fun, or free draw on photos.
Memeful
One of the easy-to-use and my personal favorite is Best Meme Generator by Memeful app. It has all the features you'd expect out of an meme generator including many pic layouts, a simple to-use UI, upgraded memes, and the capacity to make a meme with your own pics. It works perfectly for most of the devices but some users reported it for crashing issues.Thankfully, its free and without any Ads so you can give it a try without gambling anything.
Conclusion
You can try these best photo editing apps by downloading them for free from Google Play Store. So feel free to try them out, and let us know your feedback using comments section below 🙂