If you have been using Twitter for a long time, then you must have noticed that sometimes users use multiple twitter handle. For instance, a personal handle will be used to share personal tweets with the followers and then if you are running a blog then you will have a different handle for that page being used by you. This is quite similar to what we have seen on Instagram also but unluckily the official application of Instagram does not allow the support of handling multiple handles from a single account.
However, we have found a way for the iOS users which can help them to upload images to multiple Instagram account from a single point. Well there are many applications for Android and iOS which can do this and in this article, we are going to talk about them.
Upload Images to multiple Instagram account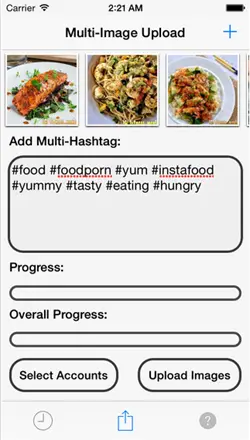 Instapload is one of those iOS applications which can be used upload these images to multiple Instagram account. Though you will have to shell out 0.99 USD but it worth for this application as it will provide you the window of looking at all the photos on your iPhone and then while uploading them you will have an option to choose the Instagram account to which it will be downloaded.
Phonegram is another great application for the Android users, which allows them to download multiple images from different Instagram accounts and store categorically on your smartphone. You wont have the provision of uploading images using this application on different accounts, that's the only drawback I see with this app.
Both of these application are really good for managing multiple accounts of Instagram, however when it comes to Android we will help you with an application which can help you to post images in multiple account in the upcoming articles.
Recommended: Translate On-Going Conversation in Real Time
Conclusion
If you are one of those snappy freaks then we can understand that this application will be a huge time saver for you. Let us know your opinion or any additional tip about this query. We know that this application is paid as of now and we will definitely try to get you a free alternative in a while. So, stay tuned to know more about such tips and tricks for these popular applications.