Sometimes users accidentally delete a valuable data or perhaps are forced to do a factory reset, leading to loss of precious data. Deleting apps designates the storage space as free from Operating system perspective, but unless the OS overwrites the storage space, your data is still there and can be recovered using some popular tools.
MobileGo
MobileGo is a very effective Android PC suit, which can make your life a lot easier. Among several useful options that it offers, there is one which allows you to recover lost files. If you plan on selling your android phone you can use another option which completely overwrites your deleted files, thus making sure that no-one else recovers what you have deleted.
You can simply download MobileGo from official page for Android and PC. You can then connect the two using USB cable, grand permission when the message pops up on Android phone and follow simple instructions. MobileGo allows to select what you want to recover from Contacts, messages, whatsapp messages, audio, video, etc.
Dumpster
Dumpster is a free app you can download for your Android phone, which works just as a recycle bin. Whatever you delete goes to the dumpster and can be recovered later.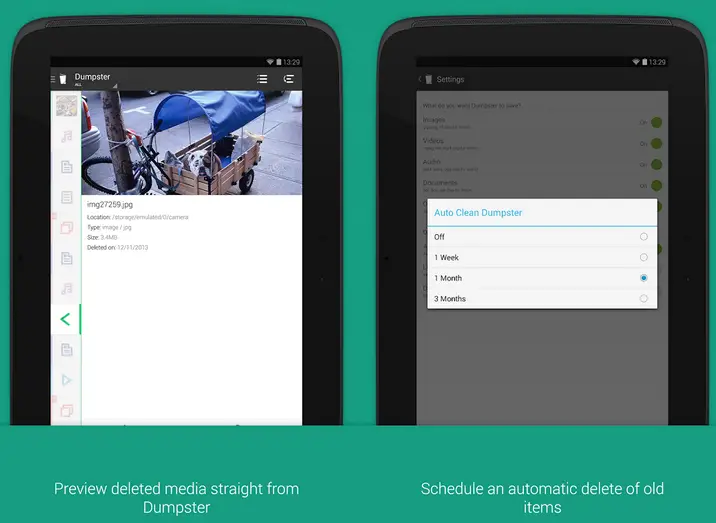 You can set to permanently delete stuff after a period of time. The app works just like Recycle bin on windows, and thus you can only recover files you deleted after you install dumpster on your phone. The app works without root access too.
Diskdigger Undeleted
Diskdigger is another such app which allows you to recover lost content on your device, but it requires root access and pro mode to work efficiently. The app can recover most of what you have lost, but if your large files are already overwritten, you won't be able to play or access them.
The app can recover files from SD card and internal storage. You can filter device scan by file size to easily reach what you want.
Dr Fone
Dr Fone is another program from wondershare, which solely deals with recovering lost data. Not all devices are supported, but all popular devices are. To use this you will have to install Dr Fone for your PC and then plug in your android phone via USB.
Make sure you have checked USB debugging option from settings>> developer options. To activate developer options you have to tap 7 times on the build number in Settings>>about phone. Once connected, follow instructions for recovery.
Conclusion
If you have accidentally deleted data, there is no guarantee that you will be able to successfully recover it, but these are some of the apps which worked for us. If you are prone to loosing data, better install Dumpster app on your android phone and follow the safer route.