WhatsApp is the most popular messaging service by far. This ad free chat client has managed to replace SMS communications and will soon introduce VoIP services. With over 700 million active users using WhatsApp worldwide, there are several queries that pop up from time to time, here are some frequently asked questions and their answers.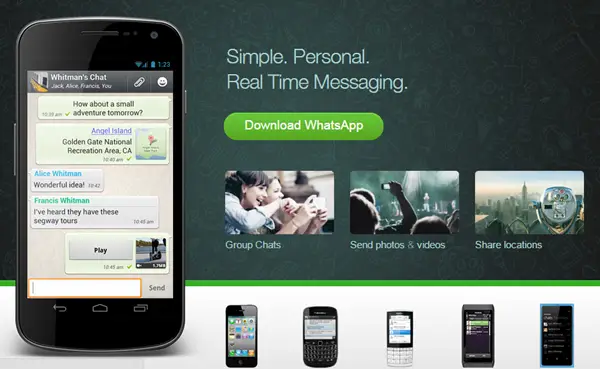 Q) What do different Tick marks mean?
A) A single Tick means message has been sent, Double tick mark implies message has been received by the recipient and blue ticks denote that your message has been read.
Q) How do i disable blue ticks?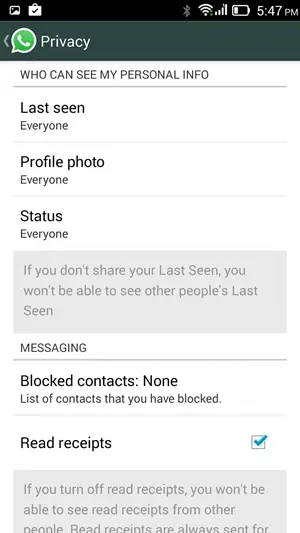 A) To remove these Blue Ticks or Read Receipts, you need to have version 2.11.444 or later. You can simply go to Settings>>account>> Privacy and uncheck read receipts.
Q) How do i disable last seen?
A) You can find that option in the same menu as that of Blue ticks. Settings>>account>> Privacy
Q) If i don't see blue ticks but the person is online, does it mean that he has disabled read receipts?
A) No, Online only indicates that the person is online. He might be busy in other conversation tab.
Q) How will i renew my WhatsApp subscription without Credit Card?
A) In India and other developing countries, WhatsApp will be free for now. The company has decided to extend subscription for free because of low credit card penetration rate. Deleting and reinstalling WhatsApp on any other device, will not affect your subscription period.
Q) What happens to my old WhatsApp account when i change Phone?
A) You can verify the SIM card and continue with the same account. Your contacts, status, profile picture will be transferred to the new phone.
Q) How do i deactivate WhatsApp account on a stolen phone?
A) To do that you will have to report your SIM stolen and ask your carrier to issue duplicate SIM. Once you activate WhatsApp on any other device using new SIM card, the old account will be deactivated.
Q) How do I move Chat History to my new Phone
A) Your chat history is stored on your last phone, if you are using the same SD card and your chats are backed up on SD card, you can plug it in the new phone and can access previous chats.
You can go to Settings>>Chat Setting>>Backup conversation to backup latest conversations
If you don't have SD card, you can use a file explore to transfer the /sdcard/WhatsApp/ folder from your old phone to the same folder of your new phone. After you have transferred this folder to your new phone, then install whatsapp on your new phone. This option is available for Android users only. On iPhone you can backup chats and reinstall on the same device.
Q) How to i manually restore to a particular day?
A) WhatsApp automatically takes backup everyday at 4:00 AM. To restore to a particular point, you have to uninstall WhatsApp. Now go to the WhatsApp>>Database folder using any file explore.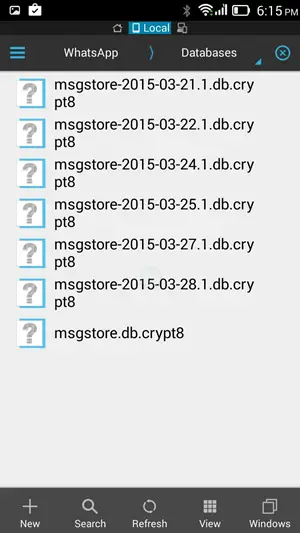 Add the backup file you wish to restore to this folder and Rename that file from "msgstore-YYYY-MM-DD.1.db.crypt7" to "msgstore.db.crypt7" or from "msgstore-YYYY-MM-DD.1.db.crypt8" to "msgstore.db.crypt8". Now reinstall WhatsApp and tap restore when prompted from WhatsApp.
Q) Can i email chat history?
A) Yes you can long press a conversation and mail chat history with or without Media files
Q) Can i restore Chat History to a new WhatsApp account when i change number?
A) No, you cannot do this.
Q) How do i know if someone has blocked me?
A) If someone has blocked you, whenever you send a message you will see only one tick. You will not see status updates or profile pic updates from that person. However, no change will be made to contact list of either person.
If someone has blocked you or if you have blocked someone, you will still receive each others messages in a group chat which includes both of you.
Q) Is it safe to use WhatsApp+ and other clients?
A) No, You could face temporary service ban if you are using anything but official WhatsApp.
Q) Can i access WhatsApp from PC?
A) You can access WhatsApp from your PC using WhatsApp web client, using Chrome, Firefox or Opera browser. This feature is available only for Android users. To protect user privacy, WhatsApp web mirrors WhatsApp on your phone to PC. If your phone is not connected, you can't use this client.
Q) What are WhatsApp Groups?
A) WhatsApp allows you to make groups of up to 100 people. You can press the menu option to do the same.
Q) What happens when an Admin leaves the Group?
A) A random member is made group admin. Only Group admins can add other members and make others admin (simply long press name of the person in group info and select make admin option).
Q) How do i activate WhatsApp Voice calling?
A) You will have to download Version 2.11.561 or later and then ask someone who is already using WhatsApp Voice calls to call you. Your UI will change once you disconnect the call.
Conclusion
These are some frequently asked WhatsApp questions that we have come across. Since WhatsApp is a vastly popular app, several users will be well versed with these details and several would need assistance. If you have any queries you can ask in the comment section below.