After Chromecast, Google has today unveiled a very impressive dongle, called Chromebit, manufactured by ASUS, which could be used to convert any display with an HDMI port into a full fledged Chromebook.
The Idea isn't exactly new as we recently saw Intel Compute Stick – a dongle which fires Windows 8.1 OS on any display, but Chromebit will be running ChromeOS which should suffice for 90 percent things most people do on their PC.
The setup is powered by Rockchip RK3288 processor with Mali 760 GPU, while other specs include 2 GB RAM, 16 GB storage, 2×2 dual band WiFi ac, Bluetooth 4.0 and a USB port. You could connect a USB hub for peripherals, but connecting peripherals with Bluetooth would make more sense.
The dongle will set you back by just $100 and will allow you to convert your TV into a Chromebook like workable PC. The stick will be available in three different colors and the end with HDMI connector can swivel and align itself to fit in all displays, thus eliminating the need for a separate HDMI cable.
Besides the dongle, Google also introduced some new and inexpensive Chromebooks. You can now buy one for as little as $150. The secret behind this bargain price is that these new Hisense and Haier chromebooks are powered by the same Rockchip RK3288 silicon as present in Chromebit.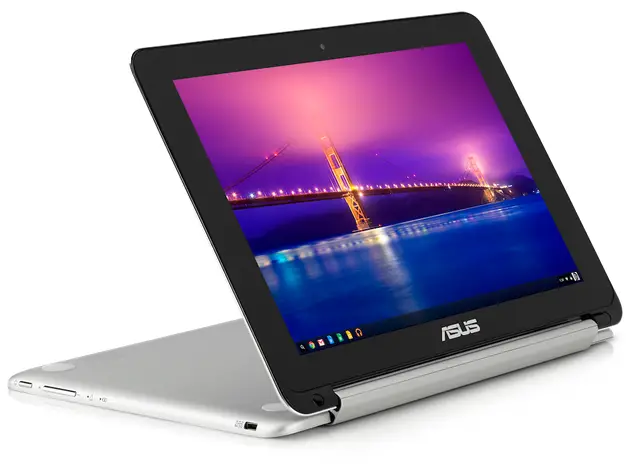 RockChip SoCs are generally seen in low end smartphones and tablets, but Google assures that this new chip is potent enough to smoothly carry ChromeOS. There is no reason to be cynical just yet.
If you are willing to spend a little more, Google also unleased the new Asus Chromebook Flip, which can flip about it hinges and double as a 10 inch tablet. It has a premium aluminum finish and light weight design which is impressive. Asus Chromebook Flip has been priced at $249.