Since the times of Nokia mobiles, we have always been addicted to maintain certain profiles on our smartphones, so that we don't have to press that Volume Button down again and again before entering into a meeting. It will be great if we could just select a profile and the rest is taken care of automatically. There is something very similar available on all the Lollipop devices, where you will have the option of putting your smartphone under three type of condition.
One of them means putting phone under absolute Do Not Disturb mode, whereas the other one would allow only certain reminders or alarms to bump in but it will not disturb you on any call or Messages. The third one would be to put your smartphone in the normal condition where you would allow your smartphone to alert you in case of even a small message received at your end. In this article we will tell you that how you can use this feature on your Android Lollipop smartphones.
Enable various Profile to avoid disturbance from your Smartphone
As you will increase the volume on your smartphone, you will see the following volume bar available in the screenshot below. This bar has three icons embedded below it, let understand this one by one.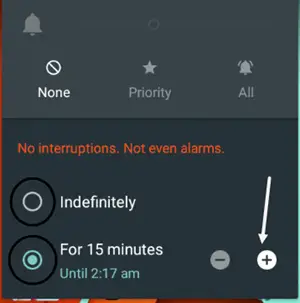 The first one, denoted by 'None' means complete no disturbance, which means that no matter what ever alarm or reminder you have schooled during that time, you will not be disturbed by it. You can also set the time frame for such profile. This is usually helpful when you are going to be in a meeting for a certain time or if you are meet someone for really important purpose.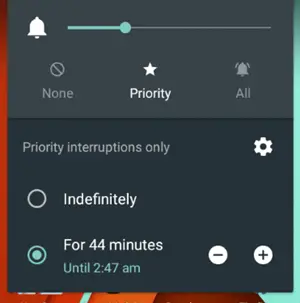 This second one, will allow the priority calls or messages or event reminders or alarms to disturb you while you are doing something else.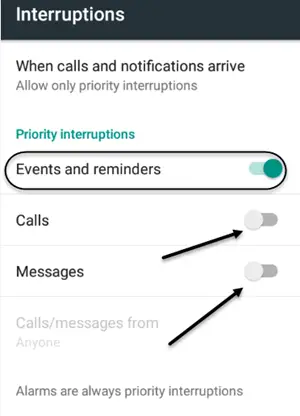 You can also set the time frame for this and by going to the Settings option you will be able to set the kind of reminders you would like to be listed under priority list of this profile.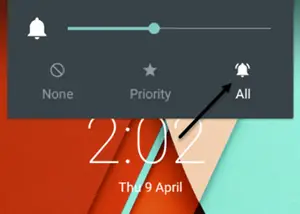 The last type of profile indicated by the icon of bell is the usually normal profile wherein, you receive all kinds of alert from all the applications installed on your smartphone.
Conclusion
This is a great feature to keep your smartphone Switched On and letting it receive all the important notifications from all the application without getting your sleep ripped off. But I still wish if we could have a button for this. Stay tuned to know more tips like these and let us know your opinion about these.