These days, Android smartphones have enough power with their high end specifications such as octa core chipsets. Not only the cutting edge smartphones, but also the older Android smartphone packs great power that can transform it into a desktop PC with capabilities such as multimedia, browsing and document editing. In order to transform your smartphone into a PC, you will need some to follow the tips that are mentioned in this article.
MHL
MHL is the acronym of Mobile High-Definition Link. It is the major prerequisite to convert your smartphone into a PC. It is the industry standard that facilitates connecting smartphones, tablets and other smart devices to HDMI compatible displays using the micro USB cable. This way, the micro USB port can be used to stream data, sound and videos over the cable. While some smartphones have started coming with the MHL feature, there are MHL adapters and docks that facilitate the task. There are several firms that sell MHL adapters, but you will have to make sure to buy one with a 3.5 mm audio jack as not all displays can handle the streamed audio over HDMI.
Accessories and Software
If you no longer want to use your conventional desktop PC, you can perform the same task with your smartphone. To do so, you need some extra software and some accessories. There has to be a micro HDMI output port in your smartphone to able mirroring the content to an external HDMI capable monitor. Also, you need an appropriate cable to connect the smartphone to the monitor. The SlimPort smartphones need a SlimPort connector. The next step is to connect a Bluetooth keyboard and mouse combination to your smartphone for typing and controlling purposes. If you are using a USB keyboard, you need to ensure if your device supports USB host mode. Your device should be in a readable position, so ensure that you use a kickstand or a case supporting the same.
When it comes to software, your smartphone should support word processing, photo editing, music streaming, social networking, video players, productivity tools and more.
Andromium Computer Platform
Andromium allows you to use your smartohone as a computer in terms of both hardware and software. The hardware part is taken care of by a dock that can transform the smartphone into a computer and there are USB ports that help in connecting peripherals such as mouse, keyboard and external monitor. The software is taken care of by the Andromium Computer Platform that provides a desktop like UI that lets you to interact using the mouse and keyboard. This is a proposed project awaiting funding and we can see it being made commercially available in the near future.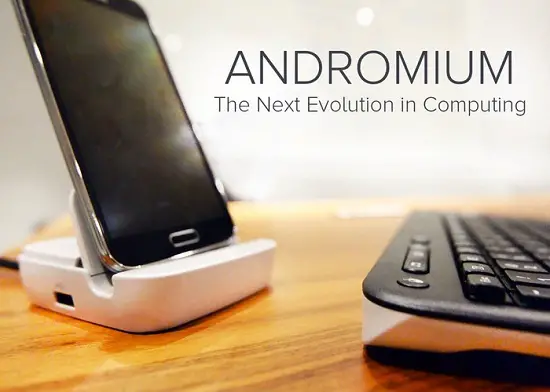 TinyStic
TinyStic is a USB sized device that can convert your smartphone into a computer. It plugs into the HDMI port on the external monitor. You need to download the app on the Android smartphone and see how the device is converted into a desktop with drop down menus as in the Windows platform. The apps in your smartphone will still be stored in your device. The next step is to connect a wireless Bluetooth keyboard to make your smartphone a complete desktop computer. This way, your smartphone or tablet can stream movies and live television and you can also play games on the Android smartphone on the big display. The TinyStic uses dual band Wi-Fi, inbuilt micro USB port, HDMI connector and LED status indicator. The mobile application has a start button, ability to change the position of this button, reorder apps, hide the apps and create folders.
Conclusion
These are some of the ways that you can use to transform your smartphone into a desktop personal computer. However, these are not the only ones that will perform the task. You can use your old smartphone as a secondary monitor, for video conferencing, document editing and scanning and many other purposes.