By default, most smartphones don't show battery percentage on your smartphone. While most phones with customized UI allow you to enable this option from settings, several smartphones running stock lollipop or KitKat and a few others are either missing this option or have it buried so deep that you can't find it. Here are some third party apps which can help you with this issue
Battery Percentage Enabler
The battery percentage enabler is a simple app which displays a white percentage icon within the battery. Just check the required option and reboot your phone. You cannot change the color of the indicator.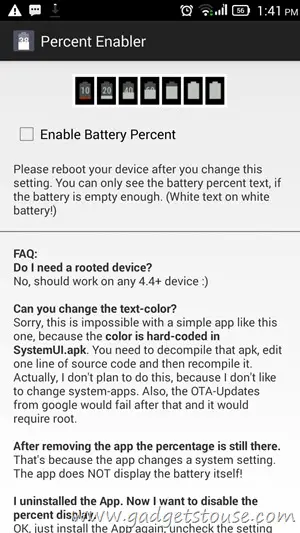 It does not require root access, but to revert back the changes, you will have to uncheck percentage option and then uninstall the app.
Battery HD
If you wish to do more than just add percentage to the battery icon, Battery HD is a very useful app. Besides displaying battery percentage in the status bar, the app displays how much time you have left before you run out of battery, music playback time, browsing time, video playback time, VoIP talk time and charging time.
You can also add widget to home screen displaying what you would want it to. The app displays all possible information about your battery including battery health, battery temperature, battery technology and more.
Battery Doctor
Battery doctor is another wonderful app which can help you with conserving battery too. Besides choosing from a couple of power saving modes, the app displays a battery percentage icon and analytical battery usage stats.
You can check charge history, app ranking based on battery usage, charge time left and a lot more using this simple app.
Show Battery Percentage
Show battery percentage is another app which shows battery percentage in simple and elegant manner. The app doesn't hog system resources, and can be used to check battery percentage and battery usage. Simply download and open the app. This will display a separate battery icon in status bar.
The icon changes colors with different levels of charging and indicates when charger is connected. You can open the app, hit menu key and tap on close to get rid of the icon.
Notification Toggles
Notification Toggle is a very popular app which has been downloaded over a million times. The main strength is the numerous customization options and attractive App interface. You can add two rows of apps, toggles, tools, contacts, music player and more.
The app requires to display a status bar notification in order to stay alive and this indicator can be customized to reflect battery percentage in your choice of color. Thus, the app allows you to put a battery indication along with adding some handy toggles in your notification shade.
Conclusion
If your device is new, you are probably happy with your battery backup and might require only a simple app like battery percentage enabler, but if after a period of aggressive usage your battery is falling short and you wish to take a closer look, one of the above apps can surely help your cause.