Owning an iPhone a matter of great pride for many smartphone users these days. And really it feels great to own a smartphone from the most premium Smartphone brand in the world. You would even really feel it awesome flaunting your smartphone in front of your friends, family and colleagues.
But as most of us jump from being an Android user to iPhones. That's why when we face issues with our Apple iPhone's, we get messed up in finding solution to it.
This time I have brought you 3 ways to fix the problem you face  when there are duplicate contacts on your iPhone.
Using Cleaning Apps
These days probably the simplest of doing almost anything on smartphone is using Apps. There are lots a apps in the iTunes which are precisely aimed to find, merge and delete duplicate contact cards from your Contacts book on your iPhone.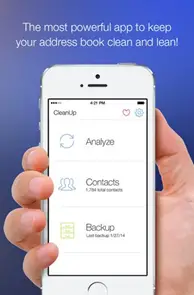 The first one of these apps is Cleaup. This functions in a systematic way to remove duplicate contacts. You just need to purchase this app to unlock bulk clean-ups but it's all worth the money. So if you've got a whole lot of duplicate entries you want to remove. It could be the first option.
Then the second most commonly used cleaning app for this purpose is Smart Merge. It solves pretty much the same purpose but helps you merge duplicate contacts with varied details.
Apart for these there are more such cleaning apps :-
Duplicate Contacts only on Your iOS Device: Read below
Don't wish to use the apps, Well we have got another way out for you without using Apps.
Check your settings in iTunes and iCloud
At first you might see the duplicate contacts if you use more than one method to keep your iCloud contacts to keep it all up to date in your iPhone. Apple provides you with two methods: iTunes and iCloud. Sometimes It's possible to use both the methods depending on whether you are using iTunes 10, or iTunes 11.2 or later, and OS X Mavericks v10.9.3 or later.
If you're using iTunes 10 or iTunes 11.2 or later, check to see if iTunes is syncing contacts:
First Connect your iPhone to your computer via USB cable.
Then locate your device in iTunes > Select the Info tab. If the Sync Address Book Contacts or the Sync Contacts checkbox is selected, then iTunes is now all set to sync your contacts.
Then check to see whether the iCloud is also set to keep contacts up to date:
iOS: Tap Settings > iCloud on your iPhone. If the contacts checkbox is selected, then iCloud is set to keep contacts up to date.
If both the iTunes and the iCloud are both set to keep contacts up to date, consider disabling contact syncing in iTunes. Now only iCloud will be able to update your contacts. Now :-
Connect your iPhone to your computer via USB cable.
Locate your device in iTunes, then select the Info tab.
Deselect Sync Address Book Contacts or Sync Contacts.
Now to remove duplicate contacts – If you are confirm that your contacts are duplicated on a single service, use the following tools to remove the duplicate contacts.
If you are using OS X Mountain Lion or Later then Use Contacts
Contacts has a built-in tool that finds and merges duplicate contact information. Make a copy of your contacts before you use the Duplicates Tool. To use the Look for Duplicates tool, you may need to run it a few times.
Open Contacts.
From the Card menu > select Card > Look for Duplicates.
Review the results > click Merge when asked.
Repeat steps 2 and 3 until and unless no duplicates are found.
After removing the duplicates, make another copy of your iCloud Contacts.
In case you are using Outlook 2007 or later
If you're using Microsoft Outlook and have duplicates contacts, see these Microsoft articles for help:
Running an Address Book Cleanup
The last method is cleaning your Address book. If you run an advanced Address Book software, there would be an option to find/merge duplicate entries. Even with Apple's own Address Book, sometimes it takes a few multiple runs to clear out just a few duplicates. Still, worth the simplicity and ease.
Conclusion
Now you have all the 3 methods in front of your prefer whichever method you would prefer. But do let us your reviews and personal experiences in the Comments Section below.