Smartphones are our personal music libraries and movie theatres on the move with collection of our favourite songs and movies. To get the best sound quality we usually try different audio and video players, tweak equalizer settings and even try new headphones from time to time.
But one thing we ignore in the pursuit of finding best audio quality is the headphone jack which is exposed to all the dust, moisture and other harmful debris. Distortion in the audio produced by the smartphone is something which we come face to face with time and again.
We usually try different headphones, tweak audio settings, try turning the headphones in the jack but to no avail. Cleaning your headphone jack will make all the distortions and disruptions during music playback go away. Fortunately cleaning the headphone jack do not require you to be highly skilled or experienced. All you need to do is to follow the simple steps we are about to mention.
Step 1:
The pre-requisite is plenty of light where you can see the internals of the headphone jack clearly. Do not try to mess up with the headphone jack in a poor lit area or else you might end up damaging your headphone jack.
In most of the smartphones the display panel and headphone jack are attached to the same assembly so do not insert a pin or anything that has pointed ends. If you try to insert anything like that then you may accidently damage the circuit assembly and you smartphone display will stop responding and I'm saying this based on personal experience.
Step 2: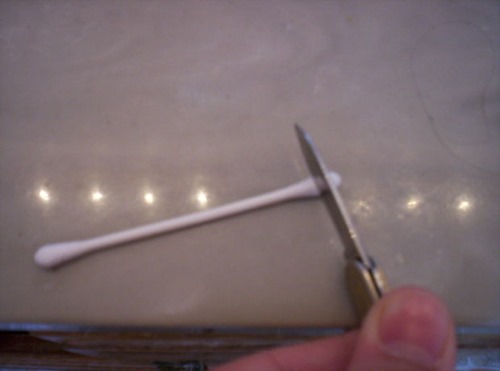 Get a cotton swab or a Q-tip and pull most of the cotton from it until a thin cotton film remains on the swab or tip. Make sure that it can easily enter and exit the headphone jack and it is not too big.
You need to make sure that cotton is firmly attached to the swab as you do not want to leave cotton residuals in the headphone jack.
Step 3:
Dip the cotton swab in rubbing alcohol lightly. Make sure it is just damp and not dripping. Insert the damp end of the cotton swab in the headphone jack and revolve it lightly and turn it sideways and up and down as well once inside. To do apply pressure as you might end up damaging the headphone jack.
The swab will come out dirty and thus you have cleaned your headphone jack without any hassle.
Step 4:
Make sure that you clean the headphone connector also. Use a soft piece of cloth and damp it with rubbing alcohol and clean the connector.
Leave them for a minute or two to dry. Once dried your headphone jack is ready to work as new and give you all the way more enjoyable audio experience that you were churning for.
Conclusion
We have guided you to clean your headphone jack properly. But if the audio quality do not improve and distortion is still there then try visiting the service centre and do not insert any pointed thing in the headphone jack. If you know of any other tips and tricks to clean the headphone jack then let us know via comments.