Samsung Galaxy S6 launched last year had a much highlighted feature which lets you launch camera app swiftly by double tapping the home button. If you are not happy with the default secondary function attached to your Android button, here are some ways you could customize it for free without rooting and use it to launch camera app.
Home 2 Shortcut – Double Tap Home Key
Home 2 Shortcut will be your best bet if you wish to integrate double tap home to camera action without rooting. Once you download and install it from Playstore, just launch the app and go through the listed steps.
First, you will have to select the app you wish trigger from the home button. You can adjust the duration between two taps, but the default normal setting works fine. Now select the default launcher you use, which will be triggered whenever you tap the home key just once. Finally, select Home 2 Shortcut as your default launcher by tapping "always" option when you hit the home key next time.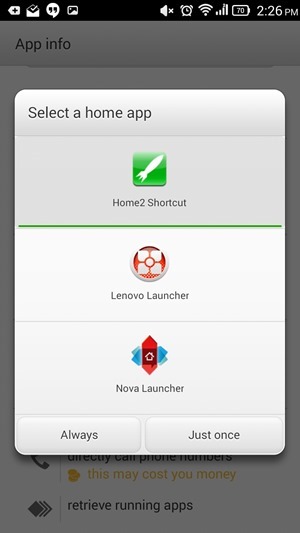 That's it. You can now double tap your home button from any screen to launch camera app.
Third Party Launchers – Single Tap Home Key
Almost all good third party launchers allow you to assign a custom function to your home button. When you are within any app or roaming in app drawer, the home button will serve its primary purpose and bring you back to home screen. But when you tap in from home screen, you can teach it to launch camera app swiftly.
Go to launcher settings, often accessible from the menu key. In Nova Launcher for instance, you can go to settings and select gestures and buttons. Now select Home key and assign the camera app to it. You can also change behavior of menu button when you long press it. Apex Launcher and all other popular launchers offer this functionality.
Home Button Launcher – Long Press Home Key
Long pressing home key is generally reserved for Google Now by default. If you are not an avid Google Now user or perhaps if you prefer other means to access it, you can customize this option using Home button launcher and use it to fire camera app.
To achieve this, download and install Home button launcher from play store, when you first launch the app, you will only see Google search listed below the home launcher bar. Press the hamburger menu and add camera app and also remove Google search.
Now press the menu button again and go to settings. Now check the auto start mode option listed at the end (works when you have only one app in the list). Now long press the home key and make home launcher default by selecting always.
That's it. You can now long press home key from anywhere and from within any app to directly launch camera app.
Conclusion
So here we have addressed three ways you could use your home key to fire Camera app and you can select whatever suits you most. Of course you can also use the same methods to trigger other apps you frequently use. All these apps work best if your camera app is already in RAM memory. So if you haven't used camera app in a long time or if you have an aggressive cache cleaner, test launch it once to push it in RAM for better results.