Smartphones in today's world mean flawless multitasking and browsing through myriad of apps at the same time. Social media apps like Facebook, Twitter, Tumbler and many others involves in-app links i.e. navigating to webpages via the links given in the apps which becomes cumbersome to leave the app and switch to a browser back and forth.
The worst thing about these in-app links is that you have to stare at the smartphone screen forever and wait for the links to load inside the app browser. This restricts the user from browsing through the feeds further and is somewhat irritating to wait for the webpages to load.
There are some apps which make this work easy for you and help you to browse through the apps by opening in-app links in the background.
Open Links on Android without Leaving the App
Flynx
Flynx is one such innovative and out of the box app which open all the links for you without leaving the app ever without any interruption. You can open multiple links at the same time using Flynx and browse them effortlessly.
The best thing about Flynx is that it comes with a reading mode and saves all the desired articles from the app for offline reading just with a tap. This is not over yet, you can share the links opened in Flynx via other social apps on your smartphone. It is all about reading the web smartly.
Link Bubble Browser
Link Bubble is another such app which saves your time and data. When an in-app link is clicked then Link Bubble loads the webpage in the background. You can keep browsing while the webpage is loaded and It notifies by animating the screen that webpage has finished loading.
Javelin Browser
Javelin is a full fledged browser for android with features like Ad-Blocking, Raeding Mode, Incognito Browsing and Data Syncing. But apart from that it can open all the in-app links without leaving the app. Once the webpages are loaded you will be notified.
Open Links on iOS in the Background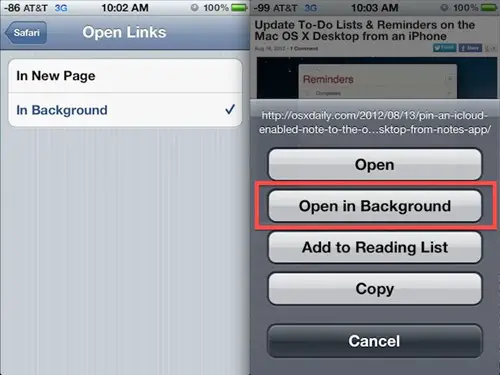 Safari for iOS comes with the same background link opening functionality as offered by the web browsers like Chrome and Firebox on Android. Opening the links in background on iPhone is like a walk in the park.
All you have to do is just go to "Settings" tab on your iPhone and select "Safari". Tap on "Open Links" and select "In Background" option and you are done. Now all the new links will open in background without bugging you anymore.
Conclusion
Switching between apps and in-app links in other browsers is always painful. These apps take this problem head on and offers true multitasking without waiting for the webpage to load anymore. If you know about other apps that come with the same functionality then let us know.