Productivity oriented and other common smartphones often need to copy paste stuff to make notes or to share with others via different mediums. If you frequently find yourself in similar situations you know how inefficient and tiresome it is to juggle between several apps and copy paste data to clipboard again and again. Here are a few apps which can make your life simpler.
Multiple copy paste apps on Android
Copy Paste Bubble
Copy paste bubble for android is very helpful in managing multiple copy paste. All copied text will go to a bubble on your screen and the number on the bubble indicates total copy paste remaining.
Now you can move on to which ever app you want to paste the content to. Just tap the orange bubble and pick one of many you want to use. From the app settings you can disable auto start, remove status bar icon or adjust size of the bubble. You can temporarily hide the bubble using the icon in notification panel.
Pros
Add free
Neat interface
Bubble is available across all apps with ease
Cons
Not many customization option
Multi Copy Paste
Multi copy paste works on the same principles, but without any bubble. So if you feel bubble on your screen is too intrusive, you can use Multi copy paste.
The app has both free and pro version, but the free version is heavily loaded with apps. When active, the app stores multiple text and image content that you send to clipboard. You can access the app from the notification shade and select the particular string you require.
Pros
You can select from several color themes
Cons
Free version has too many adds
Multiple copy paste on iOS
Copy and Paste Clipboard Widget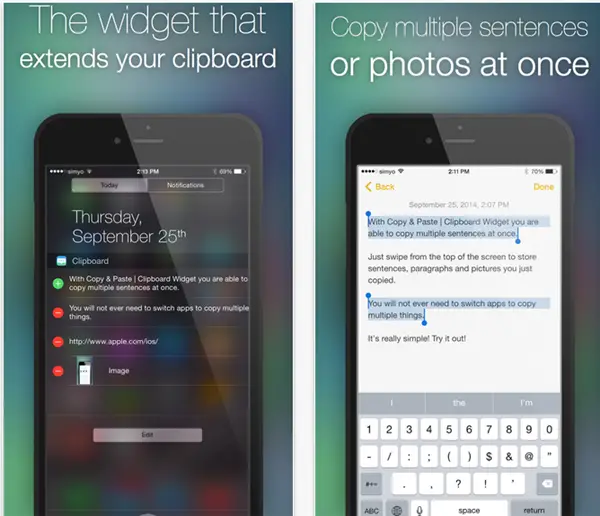 Copy and Paste clipboard widget is a very useful widget on iOS 8 which helps you copy multiple lines of texts and images. Simply download the widget and add it to the Notification Center by tapping on the 'Edit' button and then hitting the green '+' button.
You can now copy text and images as usual and all that you copy will go to the clipboard widget. You can later drop the notification shade and pick the item you wish to paste in a particular app.
Pros
Multiple copy paste on Windows Phone
Quick Copy
This doesn't work as slick as Android or iOS options, but will get the job done. You can copy and paste from clipboard to this app and this app can store multiple entries for you.
There is a copy button in front of each entry and you can tap it whenever you need to pick a copied text. You will have to long press the 'back' navigation key to switch between apps as there is no notification shortcut.
Pros
Cons
Doesn't work for images
Free version isn't very useful
Conclusion
All these apps can help you improve copy and paste functionality on Android, iOS and Windows phone. If any other app works better for you, let us know in the comment section below.