Selie is the next big thing in mobile photography. People all around the world are taking selfies these days and posting them on the internet, especially on social websites like Facebook and Instagram. One of the main reason for a few people to not like selfies is the quality of the picture that they are taking is not that good. This is because the cameras in our phones have a lower quality front-facing (or secondary) camera as compared to the rear (or primary camera).
Here is a list of apps that you can use on your smartphone to take selfie-like pictures using your rear (or primary) camera. Some of these applications work on Android while some on iOS devices. Be sure to check the ones for your smartphone.
SelfieX App (iOS)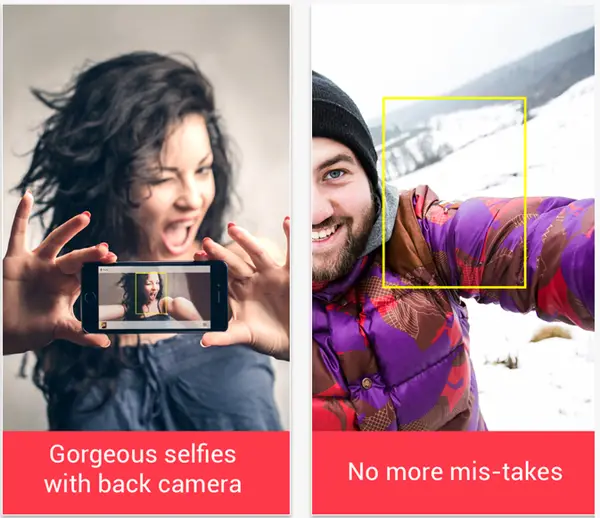 The SelfieX App on iOS is one of the most popular apps to take selfies with your phone's rear camera. The app has quite a few unique features that make it stand apart from other apps. It has an audio guiding system where the phone tells you to move the phone in a particular direction so you are in the frame. It does so by tracking your face with its face tracker. When you are in the frame, the application will announce it by saying "Say Cheese" and that's when it will take a picture
Pros
Audio Guided Movement of phone to get into frame
Face Detection and Tracking
Allows editing of pictures within the application
Cons
It does not support multi-face detection
YouCam Perfect – Selfie Cam (Android and iOS)
YouCam Perfect is an app that's available for Android as well as for iOS. It has been built by CyberLink, which is a leading name in the industry for desktop applications. This app is one of the most downloaded rear camera selfie apps on the Google Play Store. It allows multi-face tracking and in-app editing on both Android and iOS.
Pros
Multi Face Detection
Instant beautification mode, for each and every detected face
Timer to click beautiful pictures
Touch Mode to touch anywhere on the screen to take picture
Allows editing images within application
Cons
It does not support voice-guided mode
It does not support auto-clicking pictures
Smart Selfie (Android)
Smart Selfie is another powerful Android app that allows you to take good selfies with your rear camera. It is the Android counterpart of SelfieX for iOS. It supports a lot of features that enhance the selfie taking experience.
Pros
It features voice-guided picture taking
Face detection and tracking
Auto clicking pictures once the frame is set
Cons
It does not allow in-app editing of pictures
It does not support taking pictures manually
CamMe (iOS)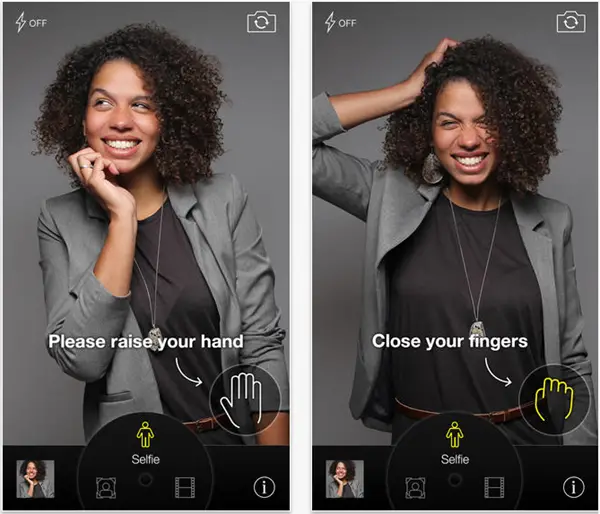 CamMe is an interesting iOS application that won the award of the "Most Innovative App" at the Mobile World Congress. It allows the user to take pictures using the rear camera by making gestures at the camera. It requires the user to place the phone somewhere, then use the hands to make a gesture for taking pictures.
Pros
Intuitive picture taking with gestures
Supports a timer to take pictures
Cons
It does not allow in-app picture editing
It requires the phone to be placed distant from the user
Stable Camera (Android)
Stable Camera is an Android app that takes your selfie photos using the rear camera. It does not require you to press any shutter button or touch the screen in any way. It takes your picture when you keep your phone stable for a couple of seconds. It starts a timer when you hold your phone steady and as soon as the timer reaches zero, it takes a picture.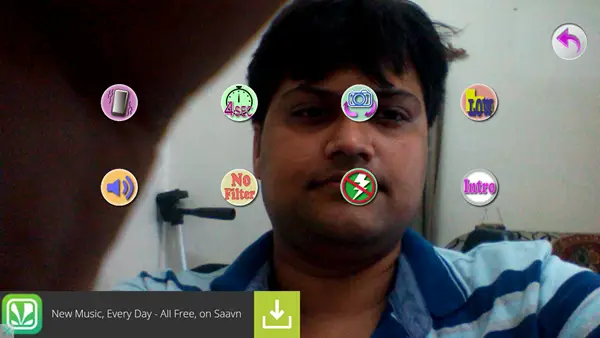 Pros
Take pictures without any interaction with the device
It supports a self-timer mode as well
Cons
No face detection and tracking
No voice guided instructions
Conclusion
The applications listed above help you to take good looking selfie photos using your smartphone. Each application has a few pros and a few cons. Do let us know which application you found most useful for you, and if you know any other application that can do that, be sure to let us know in the comments section below.