Google launched a set of very inexpensive Chromebooks in India recently, which will cost you approximately 13,000 INR. The incredibly inexpensive price makes me want to explore more and know if this machine can truly be a substitute for a Laptop? Windows 8 has caused a lot of frustration among genera populace (but that is getting better with Windows 10 on July 29) and when Google advertises "You don't need any OS" people are willing to listen.
Xolo And Nexian Chromebook Specs
Display Size: 11.6 Inch (1366 x 768 pixels) IPS LCD display at 16:9 aspect ratio
Processor: 1.8GHz Rockchip RK3288 Quad-Core Cortex-A17 processor with ARM Mali-T764 GPU
RAM: 2 GB
Software Version: Chrome OS
Camera: 1MP (1280×720) webcam
Internal Storage:  16GB
External Storage: MicroSD Slot, 100 GB Google Drive storage for 2 years
Battery: 4200 mAh
Connectivity:  WiFi, Bluetooth 4.0, 2 X USB 2.0, full HDMI Port,  headphone jack, Card reader
Design and Build
I didn't expect the Xolo or Nexian Chromebook to stupefy me with its build, but there are aspects I admire. With the lid shut down, Xolo Chromebook looks simple and elegant.
The build is not very solid and there are flexes and creaks, but again, design doesn't feel cheap. The best part is its very light and slim and thus, by default I feel like picking up the Chromebook instead of my laptop when I am not working. Xolo Chromebook has a more professional look, but Nexian Chromebook, though peppier, feels sturdier.
Keyboard and Trackpad
We bloggers are very sensitive about our keyboards. Using a Chromebook for the first time, I was frustrated by the absence of Caps lock key (There is search key instead). Unlike most people, I use it for every upper case I type. Luckily a cursory glance and keyboard settings revealed that you can easily change search key back to Caps lock. If you use Caps lock occasionally, you can toggle it On/Off by pressing "Ctrl + Search"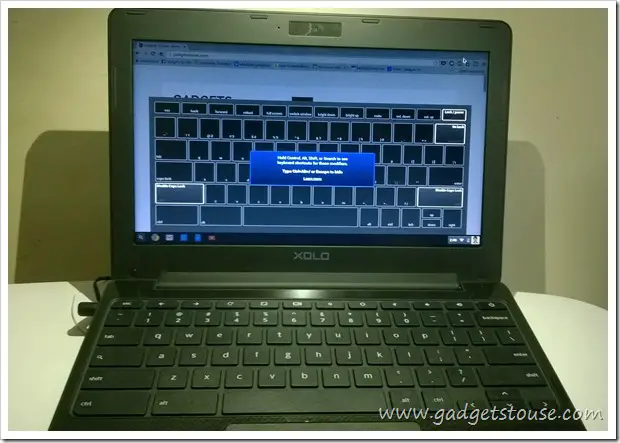 The feedback from keys and travel is again much better on Nexian Chromebook, but I don't think the build quality of either permits them to handle daily assault my work demands. Normal home users won't find this to be an issue though.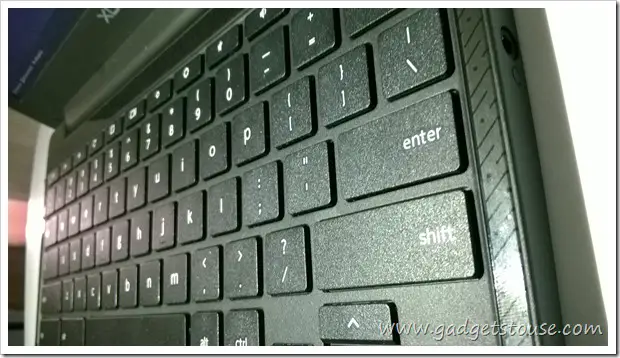 The mate finish trackpad feels good. You can press the corners to click, but that doesn't work too well. You won't need to use the clicks very often, thanks to gesture support. Two finger tap works as right click and you can scroll pages by dragging two fingers across the trackpad. Heavier users can always plug-in a mouse.
ChromeOS and Performance
Moving to the basic functionality, ChromeOS is surprisingly good and efficient. Microsoft has office apps on chrome store and thus, you don't have to rely on Google docs if you don't like them. You can capture screenshot, get other writing apps, play games, edit images and even edit videos.
Most things an average user does, can be done without any issue on a Chromebook. You can run Android Apps too on the Chromebook, which means you can access Skype and other such apps not available on rich chrome store. The Rockchip ARM SoC inside too pleasantly surprised me with the performance in day to day usage.
The 2 GB limited RAM could be an issue in long run, but wasn't an issue in first few weeks of usage. Again ChromeOS handles RAM differently than a conventional Windows Laptop and there are several convenient ways to improve performance. (You can enable Swaps to remove RAM limitation).
Since the laptop is using ARM processor instead of Intel chip, there should be a few apps incompatible with the new Rockchip Chromebook, though i didn't encounter any such app yet.
The chromeOS can boot really fast. It takes no time to switch it on and get going compared to Windows or Mac. This is another reason, why I find myself picking the Chromebook rather than Laptop more often in the past few weeks.
Offline Usage?
It is often considered that Chromebook is a dumb slab if you happen to wonder beyond the range of your WiFi router, or are without internet connection. That is simply not true.
You can do most of what you do on other conventional laptops offline too. You can watch movies, check emails and edit Google Docs offline too, though due to limited native storage, ChromeOS works best when connected to cloud. In my day to day usage, I am pretty much helpless without an Internet connection anyways, without much left to do so the online dependency isn't much of an issue for me and shouldn't be for you either if you don't have to work with specific softwares.
Display and Storage
The display is 11.6 Inches in size and layered with 1136 x 768 pixles. Display quality is just fine. It isn't luxuriously sharp or vibrant, but again is good enough to carry you through the basics. However, for professional usage, most users would want a bigger display and an 11.6 Inch panel is a compromise everyone won't be willing to make. In sunlight, you will have to max the brightness.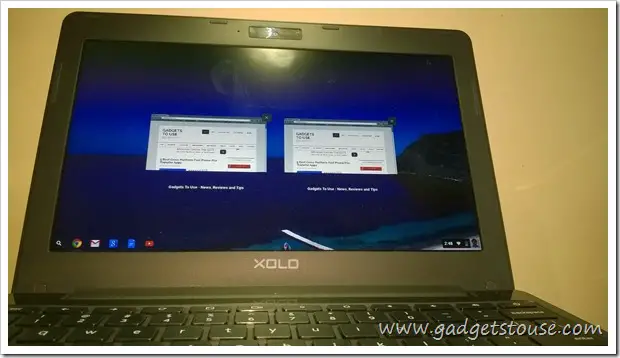 There is only 16 GB onboard storage, but again you can connect external flash storage or an SD card to augment storage space. These are again very valid options for day to day users. I am keeping most of the important stuff on cloud or SD card, so I can easily Powerwash (factory reset under advanced settings) the device in future in case it falters. You will get 100 GB Cloud storage on Google drive with every Chromebook, valid for 2 years.
Battery and Other Features
The 4200 mAh battery lasts for around 7 to 8 hours of mixed usage at medium brightness. If you watch too many videos, this could be lesser. Loudspeakers isn't very loud and you will have to use external speakers for louder audio experience. The Web cam will suffice for basic video calling.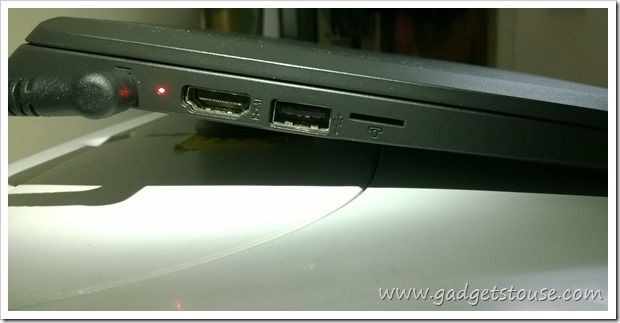 There are two USB 2.0 ports, HDMI port and one HDMI slot for further extension. Bluetooth is also an option for connecting accessories.
Photo Gallery
Verdict
Xolo and Nexian Chromebooks make some compromises, primarily with build quality, but the software performance is surprisingly good from perspective of day-to-day users. Again, this isn't a product designed for heavy users, but still has its well defined place in markets like India, where students and other home users are looking for low cost options to efficiently access internet and related services. From performance and Utility point of view, it is better than low cost tablets selling in the same price range.