Sony has today presented it new flagship phone, Xperia Z3+ which follows the same omnibalance design principles as previous Xperia highend smartphones. Sony has consistently improved Xperia Z series quality, but Xperia Z3 Plus will face extremely tough competitions from phones like Samsung Galaxy S6 which are already selling for lower price. Let's compare the two.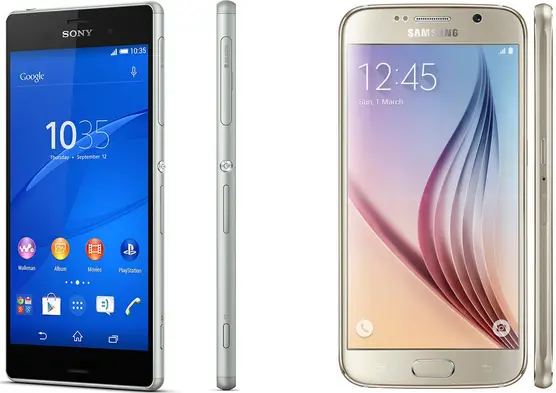 Key Specs
| | | |
| --- | --- | --- |
| Model | Samsung Galaxy S6 | Sony Xperia Z3 |
| Display | 5.1 inch, 2560×1440, Gorilla Glass 4 | 5.5 Inch, 2560 x 1440, Gorilla Glass 3 |
| Processor | 64 bit Octa Core Exynos 7420 (4 x  1.5 GHz Cortex-A53 + 4 x  2.1 GHz Cortex-A57) | 64 bit Octa Core Snapdragon 810 (4 x  2 GHz Cortex-A57 + 4 x 1.44 GHz Cortex-A53) |
| RAM | 3 GB | 3 GB |
| Internal Storage | 32 GB/64 GB/128 GB, Non-Expandable | 32 GB, Expandable 128 GB |
| OS | Android 5.1 Lollipop | Android 5.0 Lollipop |
| Camera | 16 MP/ 5 MP | 20.7 MP/ 5.1 MP |
| Dimension and Weight | 143.4 x 70.5 x 6.8 mm and 138 grams | 146 x 72 x 6.9 mm and 144 grams |
| Connectivity | 4G LTE, Wi-Fi, Bluetooth 4.0, GPS/A-GPS, GLONASS, NFC, | 4G LTE, Wi-Fi, Bluetooth 4.0, GPS/A-GPS, GLONASS, Infrared, NFC, MHL |
| Battery | 2,550 mAh | 2930 mAh |
| Price | Approx 40,000 INR/ 46000 INR | 55,900 INR |
Points in favor of Samsung Galaxy S6
Better display
Compact, slimmer and fresher design
Less expensive
Better chipset
Points in favor of Sony Xperia Z3
Better connectivity options
Waterproofing without flap on USB port
better audio with dual speakers
Expandable storage
Better Battery backup
Display and Processor
Sony high end smartphone displays have often been underwhelming. Sony has consistently improved its display technology and the Xperia Z3+ display finally has the wow factor a flagship deserves. However, Samsung Galaxy S6's QHD super AMOLED panel is better cashing in on the benefits of AMOLED technology like dark blacks and high contrast while drastically reducing its limitations by offering great sunlight visibility and whites. Xperia Z3+ still has better outdoor visibility.
Samsung ditched Snapdragon 810 for its own Exynos 7420 with similar configuration, but based on more power efficient 14nm process technology. Despite all criticism, Sony has adopted Snapdragon 810 octa core in Xperia Z3 plus. Basic and moderate users will get great performance from both devices, but Galaxy S6 has more horsepower. Both phones have 3 GB RAM.
Camera and Internal Storage
Samsung Galaxy S6 has a 16 MP rear camera and a 5 MP front camera for selfies, while Xperia Z3+ includes a 20.7 MP rear camera and a 5.1 MP front camera. Both smartphones offer very good camera performance.
Sony Xperia E3+ offers 32 GB internals storage along with 128 GB microSD support. Samsung Galaxy S6 on the other hand offers 32 GB, 64 GB and 128 GB storage variants without provision for any further expansion.
User interface and Battery
Both smartphones are running Android lollipop based ROM and will be continue getting updates. Samsung's TouchWiz has dialed down on bloatware but which one you like will be more a matter of personal taste.
Battery capacity is 2930 and 2550 on Xperia E3+ and Galaxy S6 respectively. Both smartphones support rapid charging and have battery saver mode. Both batteries are non removable and E3 plus will definitely benefit from better capacity. Besides Xperia Z3+ additionally benefits from two speakers on top and bottom, MHL 3.0 and waterproof design.
Conclusion
Sony Xperia E3+ and Samsung Galaxy S6 are both high end smartphones and quite premium, but Samsung's innovative overhaul has paid off and the new Galaxy S6 feels so much fresher. Xperia Z3+ is much more expensive, but the price is similar to what 64 GB S6 model was launched for. After next few weeks, the price should be comparable.