Recent years have seen significant growth in number of Selfie's taken and a similar growth in the camera quality as well as Camera apps for Android users. Although a Smartphone's camera is an important factor in bringing out better images, though its not the only factor. Camera Apps play a significant role as well.
Well most of you are familiar with numerous Camera Apps in the App Market known to enhance your image quality. But today let's have a look at few easy to access Camera Widgets for our Android users.
Open Camera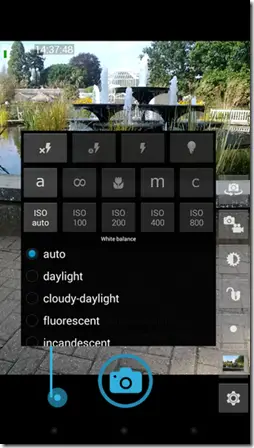 Open Camera is one of the most popular Camera Widget currently available for Android Smartphones in the market. Features include like – Auto Stabilize, Geo tagging for location of image, highly optimized GUI specially for left hand users and much more.
Pros
This app is completely Ad free which is really a boon for its users.
The widget enables users to take pictures automatically once launched.
Specially optimized GUI for Left Hand users.
Cons
New Pictures taken with the app couldn't be saved in SD card in Lollipop devices.
A Better Camera Widget
A Better Camera Widget is next in our list of Camera Widgets for Android devices. The app enables users to launch the camera app just from a single tap on the Home Screen "Camera Widget". The Features of the Camera Widget App include some basic Camera features like – HDR, Panorama, Exposure settings, ISO and similar other features which any decent camera app would be having.
Pros
All you need is just one Tap on the home screen to access the app.
The app is fully functional for both the Front as well as Rear Camera.
Could be accessed on Tablets of sizes upto 7-10 inches.
Cons
The app has some bugs which need to be resolved.
Silent Snap Widget

Silent Snap Widget is yet another Android Camera Widget which enables easy and quick access to users. This app isn't that much popular as its free version doesn't offers much whereas the paid version does significantly has some decent features. But as a well known fact Android users mostly prefer free apps as there's no scarcity of Android Apps these days in the App market.
Pros
Just Tap on the Camera Widget and instantly the Camera will take a picture.
Shot Delay duration is customizable via app Settings.
Cons
The app becomes boring to use with passing time as there are less features with which users can play with their Smartphone's Camera.
Nexus Camera Widget
These days alot of Smartphones are coming with an option on the Lock screen using which users can directly jump to their Camera App. But what if that feature isn't that fast, what if your phone doesn't has any such feature? Well Nexus Camera Widget is an app which is the answer to your "What if". This app enables you to jump directly to your Smartphone's Camera from the Lock Screen itself.
Pros
This App enables the fast camera launching from the Lock Screen itself.
Enable your Smartphone to take images right from the Lock Screen.
Shady Camera Widget
Searching for a real Camera Widget, your search ends at this Shady Camera Widget. All the functions and features of this app are to be accessed right from your Smartphone's Home Screen whether you like it or not. The name Shady comes from the fact that the app lets you store the clicked images on a secret location which is pre-set by you.
Pros
Lets your store images in a secret location.
Does all the work right on the home screen.
Cons
No significant cons have been found so far.
Conclusion
So these were the 5 Camera Widgets I found for your precious and beloved Android Smartphones. Among all these the one which I myself liked the most was the Shady Camera Widget. It had simple yet cool features like secret space for storing images, home screen editing a clicking pictures and basic yet useful Camera features. However I would request you to do use these apps and do let us know your reviews and feedback in the Comments section below.