Winner Announcement
Before we announce our winners, we would like to thank all our readers and participants for the enthusiastic response to this Giveaway.
First Winner – Rahul
First Runner-up – Siddharth Giri
Next 5 Winners (Flipkart Vouchers) – Bikram Kaur , Arup Das, sujit soman, Sahil Tiwari, Sachin Gadekar
We will soon contact winners on their mail ID. Once again, thanks everyone for participating. We will bring more such Giveaway contests  in near future.
GadgetsToUse is back with another giveaway contest in partnership with Opera Mini, which is an efficient web browser, with sole purpose of delivering fastest possible browsing experience, while taxing least system resources. We all adopt certain methods or 'Jugaads' to improve our Android efficacy and productivity, and for browsing purposes Opera Mini is a power tool. Its now time to share your 'Phone Jugaad' with us and lucky few will walk away with exciting prizes.
How to Participate
Today's smartphones are not just for calling and messaging. They have become multipurpose. Everyone has some kind of jugaads that helps in getting the most out their smartphones. Share your favourite smartphone jugaad with us to participate in the #JugaadWithOpera contest.
You just need to submit your jugaad through the widget below. Also remember to share your entries on Facebook, Twitter, G+, and Instagram with the hashtag #JugaadWithOpera to earn additional points.
#JugaadWithOpera

Prizes Up for Grabs
First Winner – OnePlus One 64 GB
First runner-up – Asus Zenfone 2 ZE551ML (2 GB RAM, 16 GB Storage)
Next 5 Winners – Flipkart vouchers worth 1000 INR each.
Now let's take a look at 5 hacks and features of Opera Mini Browser
5 Hacks of Opera Mini Browser [Video]
URL shortcuts
Opera mini has several shortcuts you can enter in URL bar to access advanced settings and to access a deeper layer of customization options. The colon at the end is part and parcel of these shortcuts, don't omit it.
Config: – Just write "config:" where you type search query and URLs and press go. The option takes you to power user settings where you can alter Image placeholder size, fit text to screen option etc.
server:reset – If you are cautious about your privacy, which is never 100 percent secure in this digital age, you can still delete your cookies from opera server using this command.
Debug: – This keyword can be used to check all opera mini advanced settings and preferences and is again meant for advanced users.
Long Press
Whenever you encounter an interesting hyperlink, which you would like to check out later, you can long press the link and you will get option to open it in private incognito tab, a new tab, the option to directly copy link or to select the text hyperlinked.
You can also long press anyplace else on the screen to select text and open a floating menu which allows you to copy text or to search the highlighted text. When you long press the URL bar, you get the option to cut, copy and paste.
Manage Speed Dials
Speed dial is a must have feature for a good browser and Opera allows you efficiently manage speed dials. You can open any page and tap the '+' sign on the left side of the URL bar to add any page to speed dial.
You can also long press any speed dial icon to edit it or to delete it.
Save pages offline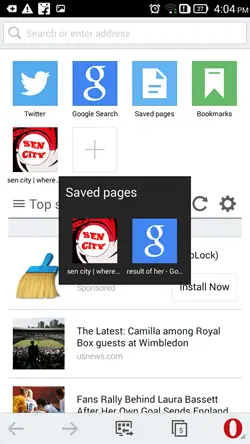 You can also save pages for offline usage. Simply tap the '+' sign on left corner, the same one which we referred in the last paragraph and hit download page. You can later visit these pages even without an internet connection from the saved page tile in speed dials.
Get Facebook Notification
If you occasionally use FB and don't want to keep heavy Facebook app or a separate Facebook Lite app on Android, you can click on the opera icon and tap on settings. From settings you can select 'facebook notifications', login your Facebook account and enable notifications.
Terms and Conditions
This contest is applicable to the participants who are resident of India and above or equal to 18 years in age.
Entries by person below age of 18 years shall be disqualified.
For participation, Participant must hold a valid twitter account.
Participation in the Contest implies that Participants agree to all Terms & Conditions of the Contest.
Anybody found using any unfair means will be immediately disqualified.
The contest is open starting from 16th July 2015 and will continue till 30 th July 2015
One winners will be selected at the end of the contest term.
We will announce the winner on 7th August 2015. GadgetsToUse will select the names of the contest winners.
The selection cannot be legally challenged.
We will contact the winner after the end of the contest via Twitter, if we do not get a reply within 10 days then we will select another winner.
The winners cannot claim cash or money in exchange of the prize and it is not transferable. Members of GadgetsToUse and their family members are not eligible to participate in this giveaway