Qualcomm Snapdragon 810 is perhaps the most controversial Snapdragon processor we have come across. However, OnePlus assures that all negatives have been fixed with the V2.1, which runs 'cooler' than ever. LG prefered Snapdragon 808 and claimed it isn't a step down but a step up. We have used and experienced both chips in past few weeks. Let's explore the difference and similarities in detail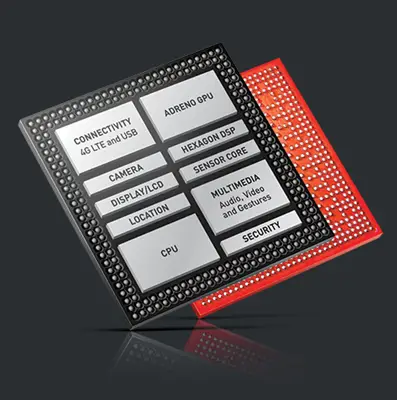 Snapdragon 808 and Snapdragon 810 Configuration
Essentially Snapdragon 810 includes 4 Cortex A57 cores and  4 Cortex A53 cores in big.LITTLE configuration. The maximum clock frequency for Cortex A57 cores is 2.5 GHz.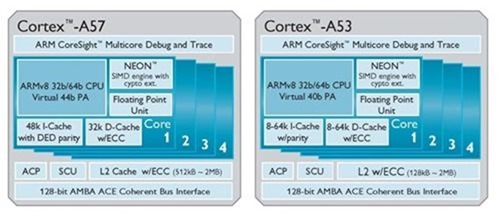 Snapdragon 808 reduces number of Cortex A53 cores to 2. The maximum clock frequency is 2.0 GHz which is lesser than 810. Besides, Snapdragon 808 came later and uses revised and improved r1p2 Cortex A57 cores instead of r1p1 cores in Snapdragon 810. The Snapdragon 810 v2.1 adds thermal gel and other improvement, but we are not yet sure if it includes the revised cores as well.
LPDDR4 RAM
In other aspects, these chips are very similar but there are a few key differences. The Snapdragon 810 has LPDDR4 memory interface which means it will be more expensive for OEMs but should theoretically provide a significant performance boost. Snapdragon 808 on the other hand supports only LPDDR3 RAM.
GPU
The Adreno 430 GPU on Snapdragon 810 is a bit more powerful (Qualcomm says 30 percent) than Adreno 418 GPU on Snapdragon 808. However, both are very powerful GPU and process large blocks of data in parallel. You won't feel the difference even when running graphic intensive apps at QHD resolution.
With a more powerful GPU, Snapdragon 810 can also support 4K Displays, though we don't see that being a mainstream thing anytime soon.
Configuration
| | | |
| --- | --- | --- |
| Compare | Snapdragon 810 MSM8994 | Snapdragon 808MSM8992 |
| ISA | ARMv8 (A32, A64) | ARMv8 (A32, A64) |
| CPU Structure | RISC | RISC |
| CPU | Quad 64-bit ARM Cortex-A57 cores + quad 64-bit ARM Cortex-A53 cores | Dual 64-bit ARM Cortex-A57 cores + quad 64-bit ARM Cortex-A53 cores |
| Process | 20 nm | 20 nm |
| GPU | Adreno 430 GPU | Adreno 418 GPU |
| OpenGL ES 3.1 | Yes | Yes |
| RAM | LPDDR4 RAM supported | LPDDR3 RAM supported , LPDDR4 RAM is not supported |
| Digital Signal Processor | Hexagon V56 DSP (up to 800MHz) | Hexagon V56 DSP (up to 800MHz) |
| Multimedia | 4K playback with H.264 (AVC) and H.265 (HEVC) formats | 4K capture and playback with H.264 (AVC) and H.265 (HEVC) formats |
| Camera | 55 MP | 55 MP |
| Video decoding | 2160p | 2160p |
| Display Resolution | 2560 x 2048 pixels (4K) | 2560 x 1600 pixels |
| Integrated WiFi | 2-stream 802.11n/ac with MU-MIMO | 2-stream 802.11n/ac with MU-MIMO |
| 4G LTE | Integrated X10 LTE | Integrated X10 LTE |
Memory performance
Though Snapdragon 810 supports LPDDR4 RAM, which has double bandwidth (two 16 bit channels ) when compared to LPDDR3 RAM, but still Geekbench score of both SoCs reveal Snapdragon 808 has similar memory performance in spite of low cost RAM interface and lower clock speed. This hints at a much more organized memory controller. Memory performance is important because if your memory is slow, it will limit processor performance as the processor won't get data to work with fast enough. Snapdragon 808's well optimized memory controller offsets LPDDR4 advantage of Snapdragon 810.
Performance and Heating
Snapdragon 810 is theoretically more powerful, but according to tests conducted by ArsTechnica, it throttles (clock frequency decreases to protect cores from overheating) even before it reaches its full frequency. The Snapdragon 808 is comparatively more stable and heats a lot less.
In our testing, both Snapdragon 810 and 808 are great performers and can run high end games without any issues. Both processors run warm, but LG G4 heats a lot less than most other Snapdragon 810 phones. Snapdragon 810 performance also stutters when it gets hot after a long gaming session. The new handset will be available in India for now. LG G4 also works snappier than most other Snapdragon 810 phones we have come across, but that is also because LG has been involved in the development of 808 from early stages.
Benchmarks scores are generally a bit better for 810, but unless you indulge in graphic intensive gaming frequently, performance won't be an issue. It seems Qualcomm has addressed the heating issue in 810. Xiaomi and OnePlus claim the Snapdragon 810 in their upcoming flagships has been fixed, but we will have to wait before we verify those claims.
Why I see more phones with Snapdragon 810 rather than Snapdragon 808?
Snapdragon 810 is the flagship SoC, but yes 808 isn't far behind and is also cheaper. It hasn't been thwarted as much on the internet either so perhaps it makes sense that we see more of it rather than Snapdragon 810. The reason is, the Snapdragon 810 started shipping first and the decisions regarding which chipset will be included are made well in advance. As the year progresses, we will see more phones with Snapdragon 808 including the upcoming Moto X 3rd Generation.
Next year, Qualcomm will make amends and introduced its 14 nm process based Snapdragon 820, which will include custom Kyro cores, as a replacement for 810. Snapdragon 820 will me mass produced by Samsung and this is what we will see in most 2016 flagships. We expect Snapdragon 808 to stick longer as a mid range SoC even when Kyro cores arrive.
Conclusion
The Snapdragon 810 has better specs and perhaps most of its flaws have been addressed in the upgraded version. Snapdragon 808 however is cheaper and yet doesn't fall far behind 810 in performance. An average user won't have much reason to complain about from either of the two chips.