Consumer electronisc giant LG introduced the world's first 4K OLED TV that came in two models – the 65″ retailing at 5.79 lakhs INR and the 55″ priced at 3.84 lakhs INR. LG has several models in both the OLED and 4K Ultra HD categories and bringing these two together was just a matter of time.
Besides the 4K resolution on the large curved screen that comes on these devices, you also get a Smart TV that comes with UHD 3D capabilities, world-class sound from Harmon Kardon, LG's native WebOS (which has its own launcher and web store for content), the ability to record and store content (either on its Internal memory card or external hard drive), wireless connectivity options via Miracast alongwith several bundled accessories that include the Magic Remote (with Voice recognition) and 3D glasses.
With a display thickness that is less than 6mm, slim edges and stylish feel, it truly makes for a sight to behold. Even more stunning are the visuals, 4K content usually uses 3840×2160 pixels which is four times sharper than HD. Based on the proprietary WRGB technology, it boasts 33 million colour sub-pixels (about 27 million more than a conventional full-HD TV) to give better colours and a higher contrast ratio with much deeper blacks.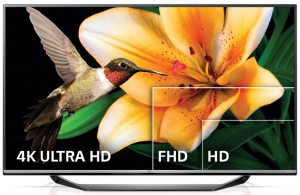 If you were one of the fortunate few to witness the ICC Cricket World Cup or FIFA World Cup earlier this year in 4K content on a big screen, you would understand how it was very different from the full-HD content that we have become more or less accustomed to. In fact, regular HD seemed less appealing to watch after a while!
Of course, this is not something that the middle-class family can afford but if you had money to splurge and were on the lookout for a big screen TV, this is probably something you'd want to consider.