Moto X Style is the new Motorola flagship phone this year, which poses a better spec sheet than Moto X Play, and is also a tad bit bigger in size. We are not sure about the exact availability info of the Moto X Style in India, but we have been told its entry is on the cards. So here are our first impressions from IFA 2015.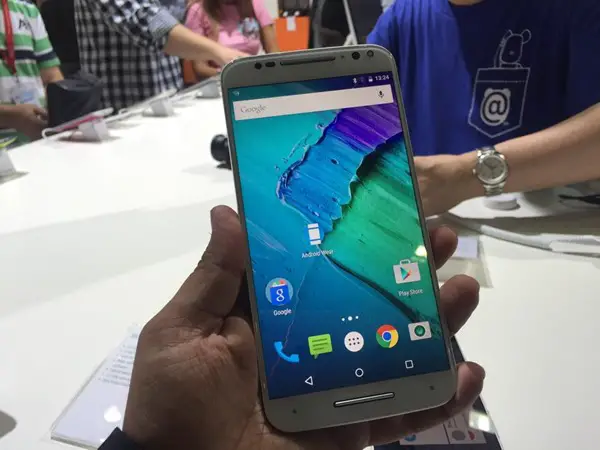 [table id=89 /]
Motorola Moto X Style Hands on Overview, Camera and Features
Moto X Style Photo Gallery
Physical Overview
Since we got to experience Moto G (2015) before we laid hands on Moto X Style, it felt like a bigger and more premium Moto G 3rd Gen, with 2nd gen model like bars on the front stereo speakers. In spite of being huge, the phone is easily manageable, thanks to the narrow bezel and curved posterior. The metal strip is actually metal, instead of flimsy plastic on Moto G3.
On the front side, we don't admire Motorola using those silver bars, even though they are a bit more refined, and the LED flash agains feels like a mismatch. If you have Moto Maker in your country, you can completely customize the way your Moto X Style looks and feel.
The QHD Amoled display looks stunning and should be treat for watching high resolution multimedia content. On the whole, Moto X looks great, but the exclusion of fingerprint sensor in late 2015 might be a bit hard to swallow. Having lived with and realized the pure convenience an accurate fingerprint scanner offers, its absence is a pretty big deal for us.
Camera Overview
Talk of the town is that Motorola has atoned all past sins with an inclusion of great 21MP camera module in the Moto X Style. While we would have to spend a lot more time with it outdoors to know for sure, but in indoor settings, Moto X Style didn't feel all that great. It is not shoddy by any means, but feels a few notches below the high benchmark standards set by 2015 flagships.
User Interface
Software is stock android, which runs butter smooth on the Snapdragon 808 -3GB RAM power house. Motorola has baked in features like Moto assist, active display and Moto Voice, which we have experience before on other Moto devices.
Competition
Since Moto X Style is expected to be priced somewhere north of 30K, it will face stiff competition from other mid-rangers like OnePlus 2 and Huawei Honor 7. We would like to wait and watch for the India price before we stack it against the competition.
Common Questions
Here are some answers to common questions, that you might be looking for.
Question – How much Internal Storage is free?
Answer – Out of 32 GB around 16 GB was available on the hands on prototype. The prototype included some camera samples and multimedia content too.
Question – Is MicroSD card slot available?
Answer –  No, storage is not expandable.
Question – Is the Battery removable
Answer – No, battery is not removable
Conclusion
The Moto X Style looks pretty impressive with its gorgeous display and powerful innards. Lack of fingerprint scanner casts some aspersions on this being future proof, but if you can look past that, there are several other great things to look forward to in the new Moto flagship.