Gone are the days when our Smartphones came with a VGA or 1.3 Megapixels camera. Remember the Sony Ericsson S700i?!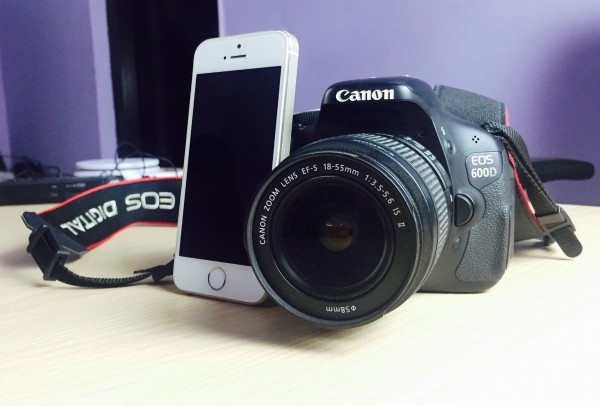 The camera on our smartphone has evolved so much that most of us don't really need a dedicated camera anymore. Having a good Smartphone camera can assist the amateur photographer and also encourages others to take up photography. The notion that to be a good photographer requires a fancy camera doesn't hold true anymore although having a DSLR certainly has its advantages.
While there are a lot of similarities between a smartphone cameras and a DSLR, it's the differences that would determine which one you'd prefer. Here are some factors to consider:
Weight and Portability
One of the major factors affecting consumers choice while buying a camera is the weight of the device and whether it's portable or not. While bigger Smartphones are getting popular, the weight remains the same if not lighter than previous models which has virtually replaced the point-and-shoot cameras. Regular DSLRs have shed a few kilos as well to ensure that the photographer doesn't have to struggle with lugging the device around.
A Smartphone is light-weight and built to travel in your pocket everywhere. It can be easily whipped into action and be put away just as easily. The only additional equipment you would require is a charger or USB cable; you don't need to carry an extra backpack for your Smartphone and related equipment.
A DSLR , while admittedly capable of much more than a Smartphone, tends to be bulky and weighs a lot more. Although you can strap it to your neck when not in use, it can be a little cumbersome and you need to be wary of your surroundings. You need to carry lenses, battery charger and additional battery packs to ensure you have a fully functional DSLR; this requires a backpack to carry and safeguard the equipment.
Speed
In photography, you won't always get that perfect shot and when the opportunity does come along, your device needs to be able to capture that moment instantly.
Smartphones like the Galaxy S6 and iPhone 6 let you access the camera in 2 steps or less and you're taken to the camera screen instantaneously and ready to snap an image within a second. You can take images with a slight delay between them and with the burst mode, can capture a series of images in a few seconds.
When using a DSLR, you have to be a little patient as you cannot hold the DSLR in your hands all the time. It's tough to capture an instant shot when you are not ready or unless you are looking for a shot. However, you can capture a lot more shots with better precision and clarity without having to worry about the software hanging up on you.
Features
The features that accompany a Smartphone or DSLR make a huge difference to the final photograph. This would include the ability to alter the settings under which the photograph is taken, the ease of usage and being able to edit the image with the desired effects in post-production.
Capturing objects that are far away is not a big challenge for the DSLR with its powerful lenses. A DSLR offers a lot of features to compensate for the conditions you are in to help you take that perfect shot; adjusting the ISO, shutter speed, sharpness, contrast, brightness and so much more. Automatic modes are also available for the amateur photographer and if you are familiar with editing software, a whole assortment of effects and tools can be used in post-production to enhance the quality of the image.
Smartphones are bridging the gap here, most high-end phones these days comes with some sort of Manual mode that allows you to edit a few of these options in real time as you take an image. There are several hundred photo editing and camera applications for both iPhone and Android, offering a great deal of options that allow you to change different aspects your image and help in giving your picture a pro finish. However, long-range shots continue to be a challenge as they do not have the desired hardware.
Price
Now, there's no doubt you'll get your money's worth if you've spent INR 35,000 on a DSLR rather than INR 35,000 on a phone just because the camera's main job is to take pictures. But with high-end camera phones like Samsung S6 or iPhone 6 in the market, is it worth buying a DSLR?
A phone has a lot more smart features to offer, but a DSLR can just click pictures and record videos. A DSLR will also require additional lenses for wide-angle and long-range shots which don't come cheap and add to the maintenance and overall cost of your equipment.
Conclusion
Smartphone cameras have come a long way — starting from being a convenient way to share simple images, to pro-quality images. While the old benchmark of resolution seems to have topped out, innovation is speeding up many areas of mobile camera technology; we have already witnessed top-line cameras in Smartphones that come with 21 Megapixels (in some cases, 41+ megapixels!) and much better sensors. Phones like LG G4 and Samsung S6 have brought in the option to edit your picture manually; you can adjust the ISO, sharpness, contrast, brightness and so much more now.
In the end, all that matters is, who is making the choice. If you ask a professional photographer, the answer will most likely be a DSLR because of what it offers to a professional although there are several who have ditched their DSLR for a top-end Smartphone; it really boils down to your requirements and the conditions under which you operate. Think about how-when-where you want to use your camera and you'll be able to decide for yourself!