Millions of people are hiring taxis or cabs to reach home or office on a daily basis in india. Uber is one of the most popular transportation network companies operating in India in last one year. It is relatively a new company and trying to expand its business, grow and make money like every other company out there. They are no close to stop the conventional taxi business in india but in metro cities they made them bleed and making things difficult for them everyday.
But with this increase in demand when a metro city citizen in india has found a easy, simple and non annoying way to commute for his meetings. Uber has adopted the policy of Surge Pricing to make some actual money, anyway they cant free rides all the time. So, what this Surge Pricing is and you can avoid it? Let's find out.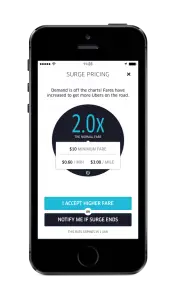 What is Surge Pricing?
Surge Pricing is simple Demand and Supply phenomenon. When you order an Uber taxi, the driver is notified and he drops you at your destination. Simple, right? But when the demand increases which means that number of people ordering a taxi increases and the number of drivers on the road are less than, Uber increase the fare to ensure reliability during busiest times. Uber does this to lure and bring more drivers on the road so that demand can be met.
When the drivers on the road increase then the prices gradually return to normal. Surge pricing is one of the least popular features of the business and remains in effect only for a short period of time.
Tips to Avoid Surge Pricing in India
Well everyone wants to avoid paying extra and Uber knows this too. So to smooth out the demand spike at busy times and to give riders an option of simply bypassing the surge Uber has introduced a new feature known as Surge Drop (only available for iOS) and there is an android app as well called NoSurge – Avoid Uber Surge but this app does not work in india.
Surge Drop feature will let you know when the surge pricing is going to end at your location. You have to enable it in the Uber app.
[stextbox id="info"]Tip: You can also save money right now, by recharging airtel money with 500 INR once it is connected, you will get INR 500 credit in uber to use.[/stextbox]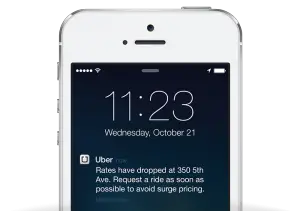 Here's how
Tap the NOTIFY ME IF SURGE ENDS button.
Confirm that you would like Uber to send you a push notification when surge at your location ends.
You can either stick around till the surge ends or just use any other means of transportation.
Surge Protector – An App Which Does Not Work in India
With the tagline "During rush hour, Uber is more expensive" this app does as the name suggests. It simply saves you from paying extra. If there is a surge at your location then this app finds a location nearest to you without surge and inputs that location as the starting point. In case it is not able to find a location without surge then it finds the nearest location to you with the lowest surge value reducing the price subsequently.
Move Your Uber Pickup Point Manually to Avoid Surge Pricing
But as we indians, come up with a fix for everything we do in a day to day usage, you can do what Surge Protector does and change your location by a kilometer or more to get the away from Surge pricing and then once you get a call from Uber driver help him reach your actual address but the location your pin point and your actual pickup address should not be more than 3 km.
Conclusion
Though, Uber is minting money out of riders, you can always avoid paying extra using the above mentioned two methods. You can also take a walk home or choose another alternative of transportation like Metro or Bus which do not charge extra money whatsoever. Choice is always yours.
Do you have any uber tips? Let us know if you have personally used any of the trick. If they are about free rides, we do know a lot of these but they have literally stopped working, but if you still have something else to share, please share it through comments.