Apple Inc. rolled out the much awaited iOS 9 Update for iPhones and the iPads worldwide. Apple users across the globe have been waiting for this new update for a really long time. Before an update is released for download it is checked and tested for all the errors and bugs. As it happens with almost all updates, as the users tried to download the updates on their iOS devices they encountered errors and ran into many problems.
[stbpro id="alert"]Tip: 5 Best Apps to Record Time Lapse Videos on Android, iOS and Windows Phone[/stbpro]
Here are some problems and how to fix them.
Software Update Failed Problem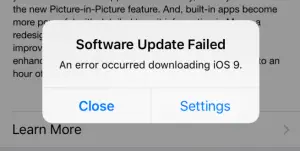 The error that most users encountered while trying to download and install the Apple Inc. latest iOS 9 was the Software Update Failed error which is pretty much annoying itself. Most of the users who got this unwelcome message of Software Update Failed were using older models of iPhones and iPads.
As iPhone and iPad users around the world swarmed to download iOS 9 at the same time, Apple Inc. servers were overloaded and the update failed after several minutes into downloading with the devices reverting to the older iOS 8. Rolling out updates to millions of devices worldwide requires a lot of bandwidth and Apple Inc. servers are under tremendous pressure due to the number of users trying to download the latest update.
That being said here's how to fix the Software Update Failed Error.
The first method is to keep trying over and over again until you succeed to download and install the update. You can wait for some time and try to download the update again. It sounds frustrating but maybe you can get lucky and will be able to successfully download and install the update. If you are not comfortable trying this method or want to go the old school way then there is another method too.
The second method requires you to download the iOS 9 update manually to the iPhone or the iPad and update it via iTunes. Here is how to do it manually.
You need to unplug all the external devices connected to your computer.
Restart your computer and your iOS device.
Connect your iOS device to the computer and try to update it again.
Updating manually is always much better than over-the-air (OTA) updates and saves you a lot of effort.
Device stuck at Swipe to upgrade screen Problem
If your device freezes or get stuck at the Swipe to Upgrade dialog then you can force your iOS device to reboot to get rid of the unresponsive Swipe to upgrade error. Here is how to fix this problem.
Press and Hold the sleep/wake button and the Home button for 10 seconds until you see the Apple logo.
Unplugging the device from the computer worked for some users but it may or may not work for you.
Wi-Fi Problem
After upgrading to the latest iOS 9 many users have encountered the broken Wi-Fi or Wi-Fi not working problem.
To fix this all you need to do is to reset the Network Settings on your Device.
Navigate to Settings >General>Reset>Reset Network Settings.
The whole process of resetting the network settings will take a couple of minutes. After that you will be able to connect to Wi-Fi again without any issues.
Apps Not Working Problem
If after upgrading to iOS 9, any of your app is not working then you can do the following.
Check if an update is available for the app. If there is then update the app and check again.
If updating the app does not help then you can try reinstalling the app again.
Hopefully that will sort out your app related issues.
Conclusion
Before upgrading your iOS device to iOS 9 make sure that you backup all the important data on your phone just to keep the data safe in case you run into a problem during the upgrading process or have to reset your device. It is always better to backup and store it a safe place so that you can restore it in case something goes wrong.