You read right! We have technology for your pet that enables you to become a better parent!
Wearables are supposed to be the next big industry and the Pet wearable segment is doing great business, to the tune of $60 Billion annually great business! And if you're thinking of just GPS locators, whose only function is to locate your pet in the event that it gets lost, that's old news!
Pet wearables have evolved to include activity trackers that monitor if your pooch has got enough exercise to checking its vitals when sick and undergoing treatment to even scheduling appointments with the vet and storing relevant data to assist with the diagnosis!
We took a look at some of the tech out there and here are a few of our favourites:
Tagg was acquired earlier this year by Whistle, a company that was known for its activity trackers. Integrating Tagg's established GPS-locator capabilities with its own activity tracker added a lot more value to Whistle's product line.
You'll never lose your dog, so long as the tracker is fastened to its collar of course. You can demarcate a home-zone and should your pet stray out of this area, text and email alerts keep you notified. In addition to giving you live GPS tracking, Tagg offers nationwide GPS coverage in the US and all this for a nominal charge per month.
By tracking your dog's activity and rest, Tagg also gives you key insights into their behavior and health like tracking when they're the most active and the quality of exercise they're getting. It can also monitor health-trends to detect any subtle changes.
You can purchase the Tagg GPS Plus for $79.95 and you require a monthly Service plan that ranges from $6.95 – $9.95 but the first month is free for usage. 
Pros:
Provides vital location info about your dog.
Text and Email Alerts
Cons:

Only available in the USA as of now and it requires a monthly service plan.

Does not work with Windows Smartphones, requires iOS or android.
[table id=116 /]
FitBark is the FitBit equivalent for your dog that lets you monitor your dog's everyday activity and turns it into Bark Points to help you track the progress made. It's a new way to understand your dog's health, explain changes in behavior, make better decisions with your vet, and share memorable moments with friends & family.
Designed to work with dogs of all sizes, this very intuitive activity tracker gives you data around active time, play time, rest time and barkpoints in a hourly, daily, weekly and monthly dashboard. It runs on both iOS and Android devices that come with Bluetooth 4.0 (Bluetooth Smart).
Accessories include the Wi-Fi Base Station which syncs any nearby FitBarks to the server real-time. This helps you get peace of mind when your dog is home alone, in assisting FitBark-enabled businesses (day cares, vet clinics) or to keep a large number of dogs in sync. Without a Wi-Fi Base Station, your FitBark will internally store all of your dog's activity and sleep information 24/7 until it finds an authorized smartphone to sync with.
Available for a one-time cost of $99.95, the device can be used globally and comes with free international shipping as well. The Wi-Fi Base Station will set you back an additional $79.95
Pros:
A very intuitive activity tracker that provides a lot of information. 

Does not require a monthly plan
Cons:
Does not have GPS

Does not work with Windows Smartphones.
Costly.
[table id=115 /]
TRACTIVE
Austrian based Tractive have been addressing the needs of pet owners across Europe. Their catalogue offers 3 devices; the GPS Pet Tracker that lets you track your pet via GPS, the Motion Pet Activity Tracker to track what your pet has been upto and the Pet Remote to help train your pet.
If you're wondering why they didn't think of combining the devices together, well, you're not alone. Although CES 2015 in January did see the announcement of a Tractive 2 that combines the GPS tracking and activity monitoring together, no word of it has surfaced yet on its website.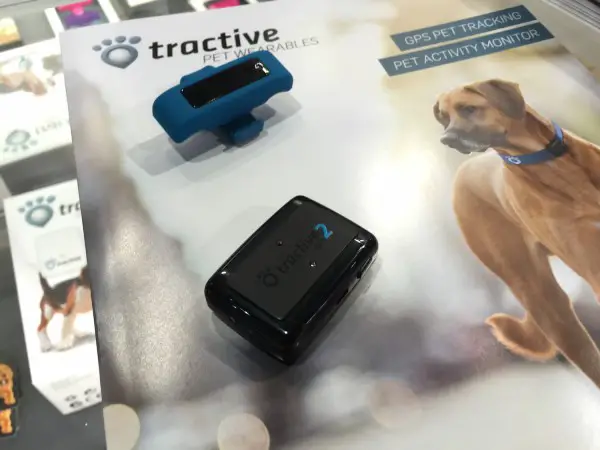 In addition to the original Tractive GPS Pet Tracker that retails at $129.99, you also have the Hunters Edition that costs about $149.99 – the real visible difference being the camouflage design. The GPS trackers do not require a SIM and instead, work with your cell-phone towers across 80 countries. There are no service contracts or hidden fees, instead, you choose from a Basic or Premium plan that includes a fee ranging from EUR 3.75 to EUR 4.99 per month.  
The Motion Pet Activity Tracker is designed on very similar lines as the FitBark app with PetPoints being awarded to track your pet's goals and the device syncs with your iOS, Android or Windows smartphone to give you insights on daily and monthly activity. Sensors feature a motion detector, accelerometer, temperature sensor and a brightness sensor. Featuring a LED display, the device is available for $99.99.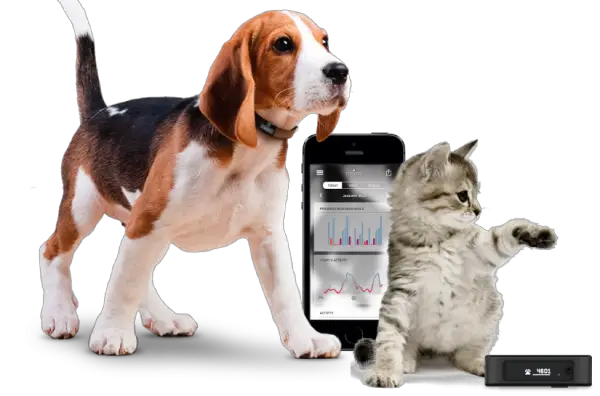 If you're the type who wants to train your pet using technology, the Tractive Pet Remote is what you're looking for. Using a gentle vibration or acoustic signals or both (which works well for pets with hearing issues), you can train your pet to obey the instructions that are generated from a remote that you use and is priced at $39.99.   
Pros:
Works with iOS, Android and Windows Smartphones.

An alternative for folks living outside the US, the Tractive GPS pet tracker is supported across 80 countries that include both North & South America, Europe, Russia, Asia, Australia and parts of Africa.
Cons:
Individual devices could have been combined to provide a single device, cost of ownership is high.
[table id=117 /]
Touted as the worlds smallest & lightest 'Activity Messenger' for dogs, Korean-manufactured UO Petfit can measure your dog's burned out calories, walking time, sleeping hours and all you need to do is run the 'Petfit Application' which communicates with the device via Bluetooth and you can view all the information about your pooch.

All you need to do is tell the UO Petfit your dog's breed, weight and age and it will tell suggest a target amount of daily activity for them and also assist you in analyzing your dog's activity pattern to help keep your pooch healthy. In addition to being waterproof, the device weighs just under 7 gms which is quite remarkable. The Petfit comes with a 110 mAh battery that takes about 2 hours to recharge and should last a good 10 days at a stretch.
[table id=121 /]
While the Indian market is yet to take off, quite a few of these activity trackers have found their way to our shores. Does your pet have a gadget like the ones you just read about? Do you know someone who does?
Drop us a note and let us know, we'd love to hear from you!