Either you're in a hurry to use your phone as soon as its battery tops up, or you firmly condemn yourself from being a wall-hugger. Either way, if you like to be notified the instant your phone's battery tops up to full charge, these are the best apps for you. These apps would eventually
Full Battery and Theft Alarm
The name of this app is different as per its features. It serves as a regular battery-full alarm and a theft alarm, a name that might be confusing. Design wise app is the only one in this roundup to loosely conform to Google's Material Design, albeit, in a slightly convoluted way- the icons to the left(three parallel lines) and the right(three vertical dots), give access to the same set of options.
The 'theft alarm' aspect of the app is a toggle you can turn on for the phone to start sounding an alarm, when the charging cord is removed, that you can only turn off with a custom password( the app asks you for one when you turn this feature on for the first time). The only occasion where this can serve as a true 'theft alarm' is when you set your phone aside for charging in a public place.
The Full Battery indicator is a switch that can be toggled to turn on or off the alert that goes off once you reach a 100% charge. Both these toggles are situated on the app's default view. This view also shows the temperature of the phone and an approximate time till a full charge.
The settings view gives you a little more flexibility by allowing you to choose your alert tone, enable or disable a Notification panel widget, automatically start the two features and an in-app purchase to remove ads (Rs 83.99). It also gives you a feature to delay the full-battery alert for a while after the phone actually tops up. Additional settings such as alert volumes, overriding the phone's silent mode, toggling vibration on or off, are also present.
Key Features: Full Charge Alerts, Theft Alarm 
App Size: 16.4 MB
Pros:
Theft alarm
Material design
Alerts can be delayed
How to use panel
Continuous update
Cons:
Higher cost to go ad-free
Full-screen ads
Notification panel widget is less informative
Complicated design
Battery 100% Alarm
This app attempts to keep its UI simple: just one scroll view of options. These options include volume settings, an alert tone picker, overriding silent mode, delaying the alert once a full charge is reached, snooze and repeat functionality and an option to remove ads(Rs 60). Additionally, you can choose to be alerted when a certain battery percentage is reached too, which can be select as per your preference.
The design of the app seems to be an afterthought, though since toggles and dropdown menus are all just buttons. Toggles change colors when turned on or off (dark blue and grey, respectively). The ad has a non-intrusive placement by being located at the very top. The notification widget provides a better insight by telling you the remaining time to top up but doesn't show you the temperature of your device. However app hasn't been updated in almost a year, now.
Key Features: 100 % Battery Alert
App Size: 10.05 MB
App Download Link
Pros:
Informative notification widget
Lack of menus makes the app simple
Non-intrusive ads
Lesser cost to go ad-free
Cons:
Poorly thought design elements
Lack of support from developer in a while.
Battery Full Alarm: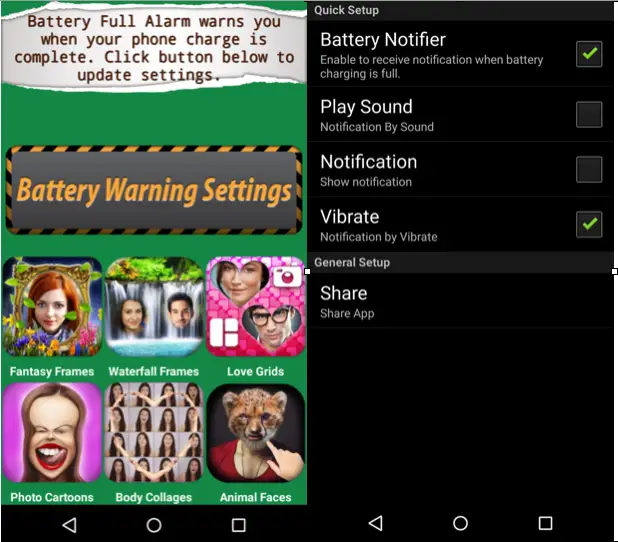 If you like to go completely bare-bones, this should be your app of choice. To illustrate, this app provides you with just four checkboxes, after a clunky ad for installing other apps by the developer. The checkboxes allow you to turn off the notifier, play an alert to notify you when the battery reaches 100% , send you a notification to do the same and enable or disable vibration. The design elements are stuck in pre-Android 4.0 days and there are no banner ads or notification widgets.
Key Features: 100 % Battery Alert
App Size: 5.95 MB
Pros:
Cons:
Full screen ads
Barely any customisation
App isn't updated to support new design language.
Conclusion:
We think that the Battery 100% Alarm should serve your needs well. However, if you charge your phone in public places a lot, Full Battery and Theft Alarm's safety feature can make you rest easy while your phone tops up.