We recently managed to get our hands on Apple's iPhone 6S and the first thing on our checklist was to explore 3D Touch. So here's a comprehensive piece on everything surrounding the iPhone 6S' 3D Touch.
What it is ?
https://www.youtube.com/watch?v=cSTEB8cdQwo
Introduction
Apple announced its iPhone 6S on 9th of October and, along with it, announced a new input method that, as they believed, is just as revolutionary as multitouch. To sum it up, 3D touch uses capacitive sensors built into the display that detect how hard you press it. Putting rest to a common misunderstanding, 3D touch is not equivalent to 'tap-and-hold'. To illustrate, tapping and holding an app on the home screen causes all apps to enter 'wiggle mode'(where you can reorder or delete your apps); whereas pressing harder on a compatible app gives you up to 4 shortcuts within the app.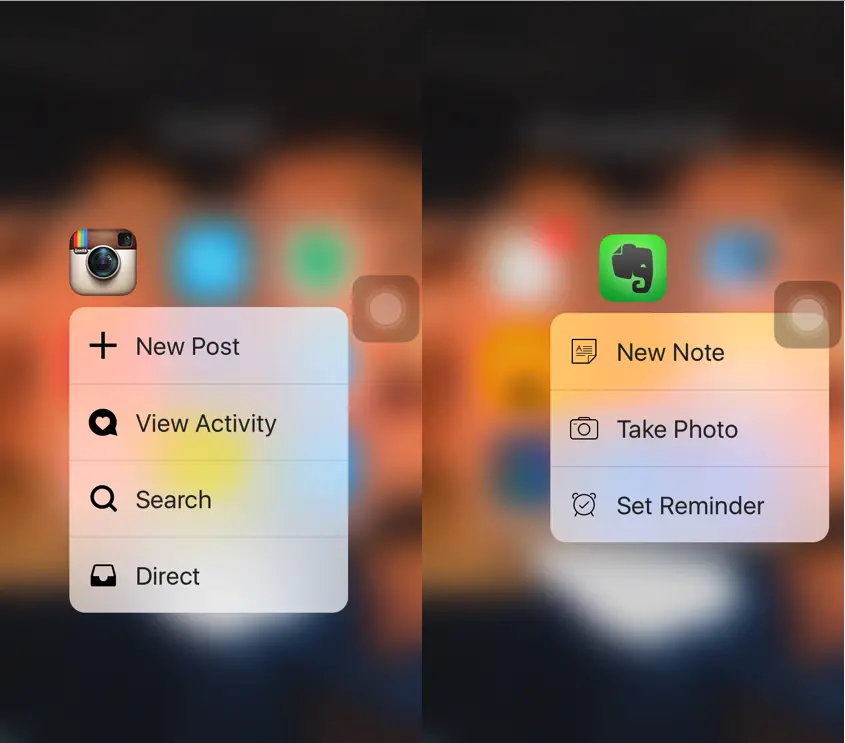 To touch upon the sudden name change from 'Force Touch'(on the Apple watch and Macbooks) to '3D Touch', the speculation behind this shift points to a couple of reasons- '3D Touch' has a better, non-intrusive feel to the name compared to 'Force Touch', making it a marketing boon. Another reason could be that Force Touch is a binary standpoint, wherein you either press hard or don't(logically speaking, there are varying levels of pressure with Force Touch too). 3D Touch, however, also measures how hard you press the display(with greater granularity). Whichever the reason, Apple have made their call and seem content with it.
Lastly, an element that seems quintessential to the story of 3D Touch is the Taptic Engine- Apple's new vibration motor; which Apple says reaches peak output in just one oscillation. This is relevant to 3D Touch because you get a subtle haptic feedback, akin to a 'tap', that lasts a fraction of a second when you engage 3D Touch successfully and a 'triple tap' when pressing down on an incompatible app.
Features
3D Touch is present in all of Apple's apps that come preinstalled in a contextually relevant manner. A developer API has also been available that's led to vivacious developers and big names such as Instagram and Facebook to adopt 3D Touch into their apps. Apart from app implementations, 3D Touch is prevalent in some system-wide elements as well. Here's a detailed list of the applications of 3D Touch:
Live Photos: Live Photos, in essence, are a photograph with 1.5 seconds of video before and after the picture(Android users can find alternatives to Live Photos here). While viewing the still image in the gallery, pressing it harder allows you to watch it come to life as iOS plays the 3 second video surrounding that image. The same thing can be seen if your wallpaper is a Live Photo.
Task Switcher: Applicable anywhere, you press the side of the screen and swipe right to reveal your recent apps tray. Keep swiping all the way to the right and you jump into your most recently used app. This does prove to be a neat feature on paper but in practice, we found ourselves accidentally trigerring this gesture with the 'swipe to go back' gesture prevalent in iOS.
App Implementations: Each app can have their own implementations of 3D Touch using the Developer API. eg: Warhammer 40K, a game demoed by Apple, employs 3D touch to launch stronger attacks when engaged, as compared to normal taps.
Contextual Shortcuts: Pressing an app that supports 3D Touch allows you to bring up upto 4 shortcuts that can take you right into a specific section of that app. eg: the Phone app lets you press it to call your favourite contacts.
Cursor Positioning: Whenever entering text, you can press the keyboard to enable a cursor mode that lets you place the cursor wherever you want. Pressing harder still, lets you start selecting words in a similar way.
Peek and Pop: Apple's marquee feature that saves you fractions of seconds each time you want to look for something. You press a small target(a picture, an email etc.) in your list to get a preview of that item; press harder and you've opened it up. It seems pointless at first but when you find an interaction that works best for you, you start to appreciate it.
Drawing in Notes: A small feature, but drawing in the new Notes app lets you draw darker strokes if you press the screen while drawing.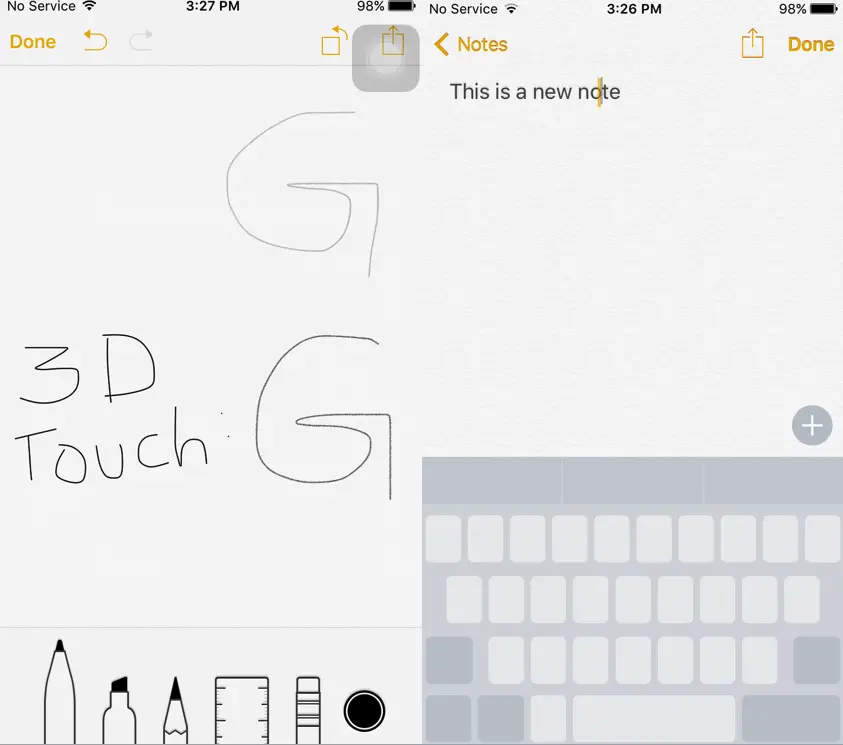 Limitations
3D Touch is undoubtedly in its nascent stages. And, as of now, that's the only serious limitation. If you've ever heard anyone say '3D Touch is going to become important…in the future', they're right. What 3D Touch lacks right now, essentially, is ubiquity, and, by extension a prevalent mindshare. During our time with the iPhone 6S, we had to constantly and consciously remember which apps and where, in those apps, 3D Touch actually works. If you want to get at some file/item quicker, or jump straight into a specific task, 3D Touch should, in theory, let you do so; but unless you're entirely sure that the result yielded will be what you want, you end up doing what you wanted to do, slower than you would otherwise.
Some other gripes we have with 3D Touch are the fact that some OS gestures relying on 3D Touch conflict with other, non-pressure-sensitive gestures such as opening the task switcher by pressing the screen and 'swipe to go back', utilise the same fundamental left-to-right swipe.
Possibilities- A Developer Perspective
All the limitations listed above are bound to get better with time. 3D Touch will, certainly, be the future of interacting with your device as more possibilities open up and developers adopt 3D Touch in a meaningful way. Ubiquity is also sure to follow. 'Peek' and 'Pop' will probably be the de-facto standard of previewing things in iOS. The iPads are also not far away from being given the ability to allow users to use 3D Touch. Gaming and drawing apps also stand to benefit from a wide presence of 3D Touch. Lastly, Apple has had a history of opening up its hardware for developers in a comprehensive way at their WWDC(World-Wide Developer's Conference); implying that 3D Touch's next biggest chapter will be written at WWDC 2016.
Conclusion
3D Touch does open up a new dimension of possibilities. The only limitations it faces right now is its newness and lack of widespread adoption. But we would rather see a delayed and well-thoughtout implementation to a hasty and tacky one. And the former seems to be exactly where 3D Touch is headed. Let us know what you think about 3D Touch and whether it seems like something that is appealing to you.