Gaming on your smartphone is something that everyone enjoys once in awhile. Be it casual gaming like Chess, Sudoku or such games or be it hardcore gaming like Asphalt 8, Dead Trigger 2. We have not seen many Indian games as such on the Play Store or the Apple App Store, and now Airtel has stepped up with they Wynk branding, a branding known for Wynk Music (a music streaming service) and Wynk Movies (a movie streaming service) has launched Wynk Games, which will offer over 2000 games from various genres and also allow Indian developers to get out to a larger audience.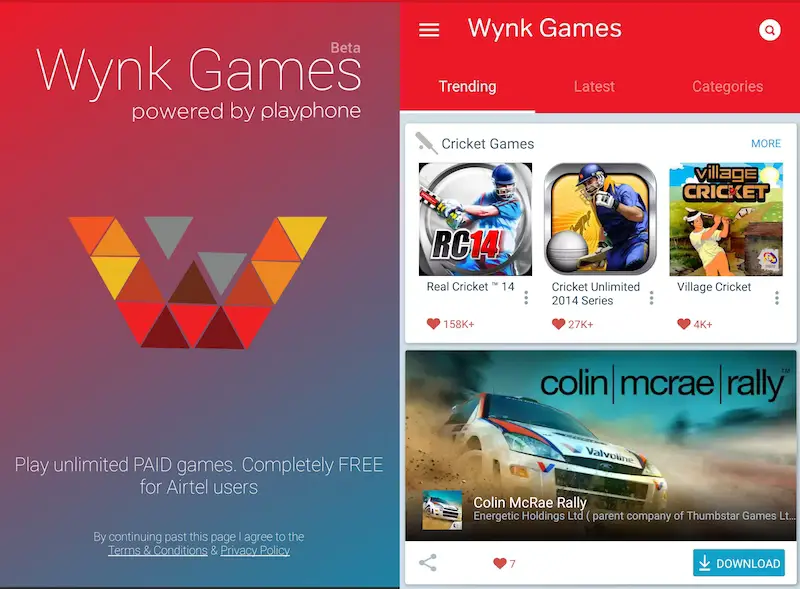 In this article, let us talk about the things that make this Wynk Games App a hit or a fail, ruling out various things as we do through with this article.
Good Points about Wynk Games App
There are a lot of good things to talk about with this Wynk Games app, and the features that it offers. But in the future, we will have to see if this actually works out well in favor of Airtel or not.
Library of Games
Since the Wynk Games App is still in beta since its launch late December last year, the Wynk Games App doesn't fail with the collection of games. It has a lot of games to cater to every genre, and at the time of writing this article, Wynk claims to have over 2000 titles in its library right now. With a promise to add more games in the coming months, it promises the user a good gaming experience.
Advertisement Free
The application is kept advertisement free, and the user can download the games that they like and play them offline, even without an internet connection. This makes the users happier because let's face it, who likes to look at advertisements while playing their favorite game.
Premium Games at No Additional Cost
Since the Wynk Games platform is a subscription type model, once you pay a small fee, you get access to their entire library, which includes some premium titles as well. With one fee, you can play as many premium titles as you want from their listing, even have them downloaded on your device to play them without an internet connection.
In Alliance with Playphone
All the games that are bundled in the Wynk Games app, are in alliance with Playphone, and this benefits the users and developers a lot. Developers have access to other countries, where Playphone is present to get their game out there, and the users have access to the massive building library that Playphone has.
Bad Things about Wynk Games App
As it is with everything, there are a few good points, but a few bad points. The bad things about Wynk Games isn't a long list, but just a single thing.
Pricing
Since the app is still in beta, it is offered for free to Airtel customers but is charged at INR 29 for other customers. This pricing isn't bad at all for the games you get, but in the future, when it is launched as a full-fledged app, the pricing will definitely not be kept the same. Let us wait to see what the final pricing comes out to be in the distant future.
Conclusion
The initiative by Airtel to launch an app like Wynk Games is an interesting one that gives better exposure to the users and the developers alike. You can go ahead and try out the app for yourself by visiting Wynk.in on your computer or your smartphone.