Fitbit has kickstarted CES 2016 with a bang by announcing a new product that goes by the name of "Blaze" which actually looks like a smartwatch but Fitbit is calling it a smart fitness watch. Blaze is Fitbit's attempt to offer something new with added functionality sans the third party apps which we usually see on every smartwatch out there. Fitbit Blaze carries a prices tag of $199.95 (INR 13,380 approx).
Fitbit Blaze sports a unique octagonal design which we hadn't seen on a wearable for a long time and at first look you will find it less sophisticated than most of the smartwatches today. It comes with a hoard of useful features but lacks the inbuilt GPS functionality which sets it apart from its competitors. But Fitbit has played this well as it comes with connected GPS feature which uses the GPS functionality of the smartphone it is connected the live data is directly beamed to the smartphone for easy viewing.
One of the major features on Blaze is the heart rate monitoring is always on by default as it keep tracking your heart rate even you are sleeping or engaging in no physical activity. It is designed to track your daily steps, sleep patterns, calories burned while exercising and other physical activities.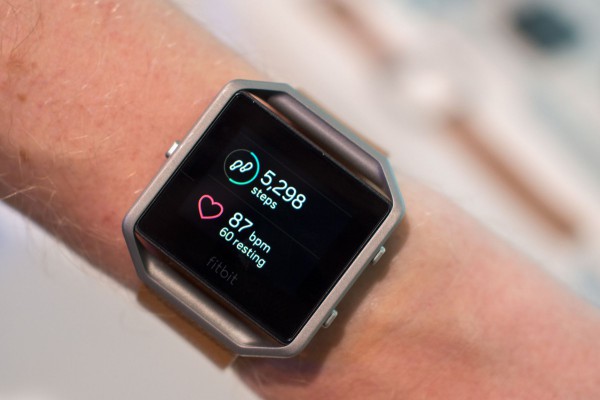 FitBit Blaze comes with a FitStar app which offers guided workouts to increase your activity and overall health. Blaze also automatically tracks and record a whole lot of aerobic activities and exercises which include  walking, running, playing tennis, basketball, soccer and machine workouts. The data from all these activities can be automatically tracked , without needing to actually do anything, and synced to your iOS, Android or Windows based smartphones as well as Desktops.
Other than all the above mentioned features Blaze offers a lot of smartwatch features like you can Play and Pause music , check incoming notifications and alerts. The only major drawback is that you will not be able to get notifications and alerts from third party apps like WhatsApp, Facebook and others. It supports native apps only.
Fitbit claims that Blaze can non-stop for five long days which is an impressive feat considering that is offers so much battery draining functions.