CES innovations this year has definitely realized the need for man to continue to wake up every morning and innovate, how do you do it? Welcome, Sensorwake, an olfactory alarm clock that wakes you up not with usual depressing sound or flashlight but with scent. That's right, the Sensorwake alarm clock uses scent capsules via dry air diffusion method to create an intense aroma thereby stimulating the nose and waking you up.
Sensorwake is a French start-up by Guillaume Rolland who after a successful Kickstarter programme joined hands with the Google France incubator programme based in Paris. The idea behind the product is to make waking up in the morning, a more refreshing experience so that you enjoy a more active morning every day.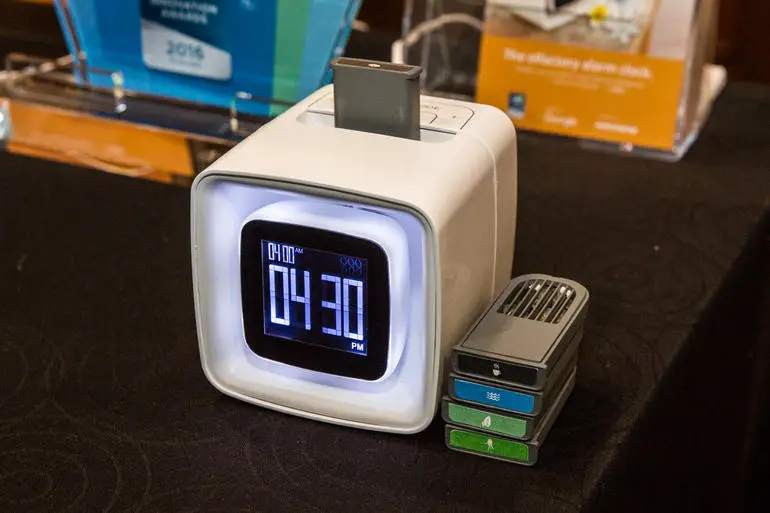 The alarm has an LCD screen to portray the time and uses cartridges to produce a smell, replicating different aromas to wake you up. While the nasal aromatherapy is certified by leading health organizations, we wonder what if you have a clogged nose or, for instance, suffer from lower sense of smell like sugar patient's, let's not get disheartened cause the aromatic alarm also has the regular audio alarm that goes on after three minutes of the smell to make sure you don't miss out on that meeting at any cost. The company boasts a 99% success rate, which to us looks quite astonishingly remarkable in words and a must have for the Indian Parliament.
The clock retails for $109(Rs. 7,300) with pre-orders starting at $89(Rs. 6,000) with a single cartridge lasting up to 30 mornings and after that, you can order a set of two cartridges for $10.90  which is about Rs. 700 for two months of fresh awakenings. The cartridges come in the following set of flavors
espresso-hot croissant
sea side-lush jungle
chocolate-pepper mint
Conclusion
The device seems pretty interesting and one of a kind. But how useful this product will be, will remain a question till people get their hands on it and try testing it in their daily routine. Personally speaking, it might not be something for me but let's see.