Micromax has emerged as one of the best homegrown smartphone maker with an impressive growth rate. The aggressive pricing and innovative technology from the company has helped it grow in upward direction but the entry of several Chinese OEM in India has put some effect on the sales of its smartphones. As far as we have read the strategy which Micromax follows, they believe in a never settle down policy, hence it keeps coming with a lot of interesting products after small intervals.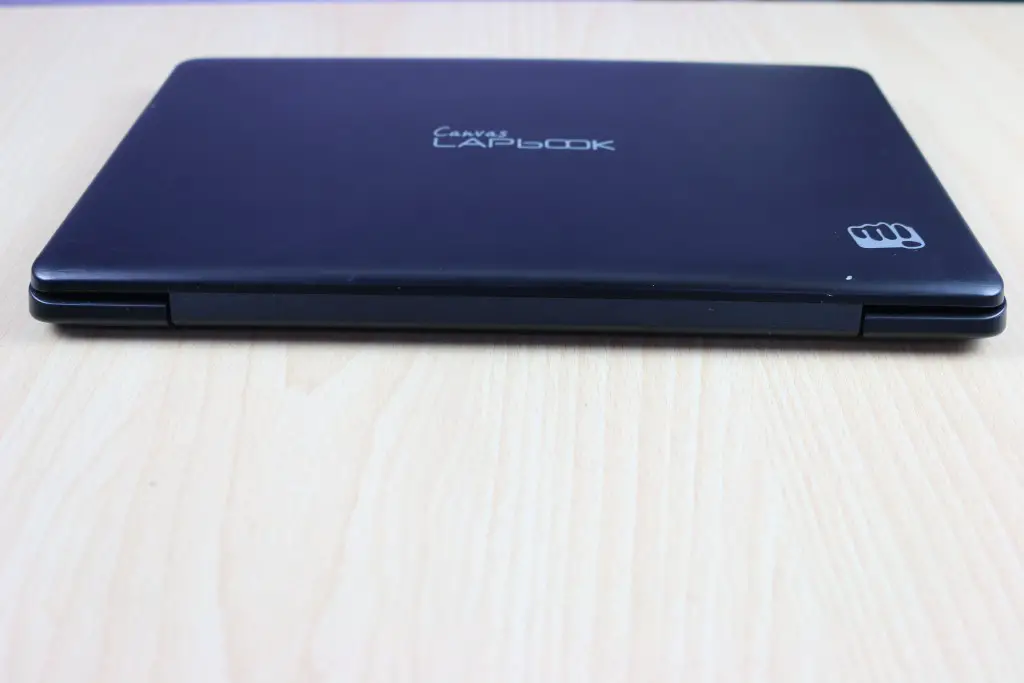 The popular brand has now diversified their approach from phones to proper computing devices. Their first Windows 8.1 Laptab was launched in June, and the company has now entered the notebook segment with Canvas Lapbook. It has made the low-cost notebook segment more compelling as it is one of the most affordable Windows based notebook, at the price of INR 13,999 only. The two close competitors are the Asus EeeBook X205 and the HP Stream 11 which are priced INR 15,490 and INR 19,264 respectively.
Pros
Good full sized keyboard
DC adapter charges device fast
Cinematic and Dynamic sound
Fair built
Low cost
Cons
Track-pad is not up to the mark
Broad bezels around display
Poor response from power key and no power indication light on key
Poor viewing angles
Micromax Canvas Lapbook Specifications
[table id=305 /] 
Micromax Canvas Lapbook Unboxing & Quick Review [Video]
Design and Built
The Canvas Lapbook is a petite, fair looking notebook which is majorly made of good quality plastic. As we know cost cutting is very usual in budget laptops, Micromax has chose to put a decent quality plastic but the good thing is that, it does not flex while putting weight on the display or the keyboard.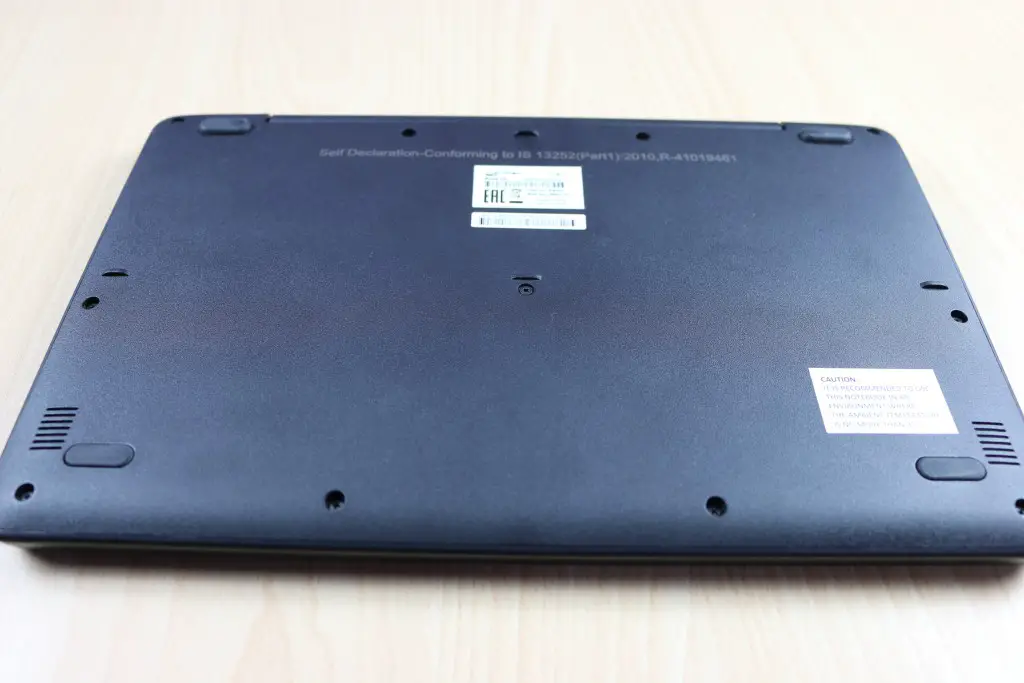 It has a brushed metal finish on the lid, even though not metallic, but still it manages to add something to the looks of the notebook. The good thing about this material and finish is, it does not get dirty like the shiny or glossy finished lids.
Talking about the form factor, Canvas Lapbook weighs just 1.3 Kgs and is 19 mm thick with the lid closed. Is this a good form factor? Yes, at this price point it is close to its competitors which weight 980 gms (Asus EeeBook) and 1.5 Kg (HP Stream 11) and are almost equally thick.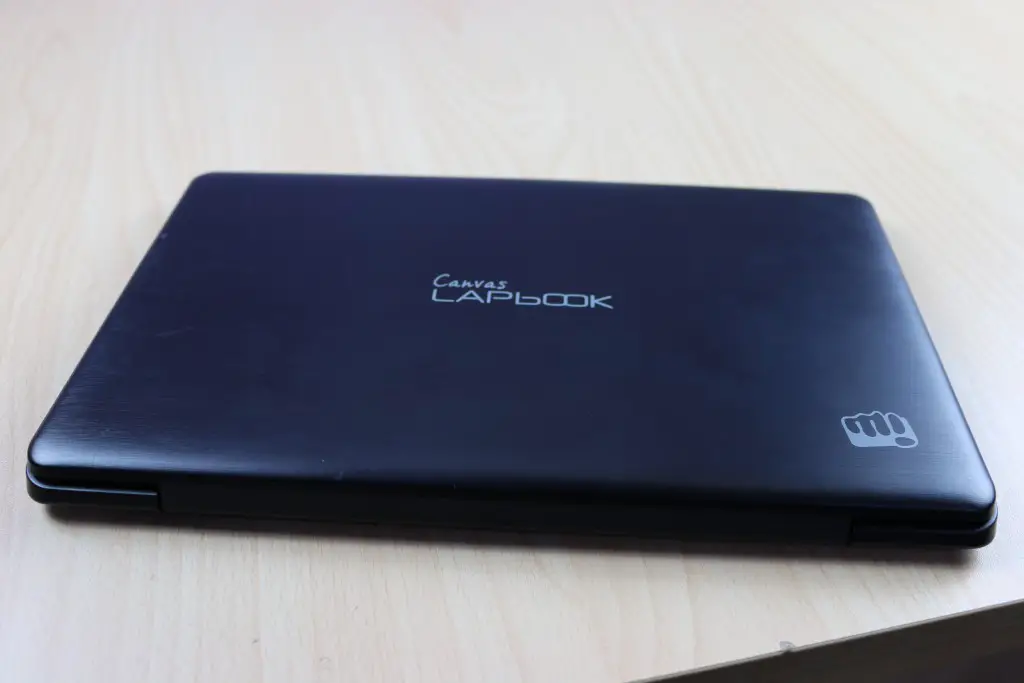 Keyboard and Touchpad
The Canvas Lapbook has a well designed chiclet keyboard with sufficient space between the keys. Due to the small size of the notebook, the keyboard is a bit compact and makes quick typing a bit difficult. The build qualtity and material of the keys are good, we did not notice any wobbling but you may notice a bit of flex in the base every time you push a key a little harder than usual.
The trackpad is quite small and mixes with the hand-rest area around it. It is still accurate and easy to use once you get used to it. Comfort may be a problem in some cases but at this price point, we expect the minor flaws.
Ports
The connectivity options available on this device are good enough for a low-budget basic laptop. The left side features an HDMI port, DC charger pin port, an eMMC slot, 3.5 mm audio jack and one USB 2.0 port.
On the right side, it has just one USB 2.0 port.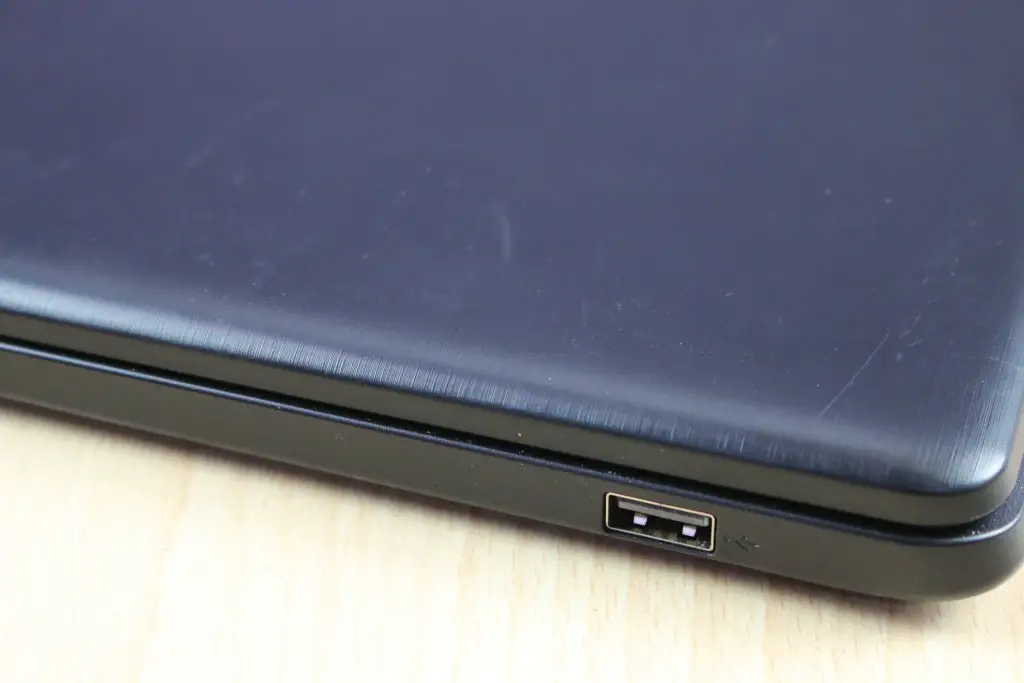 Performance & User Experience
The Canvas Lapbook comes with an Intel Quad Core processor, coupled with 2GB of RAM. It is the most common set of specifications that we find in devices of this price range. The Canvas Lapbook is strictly made for basic usage and it
I used this device to watch movies, skype, work on MS Word and loads of internet browsing. It handled all this very efficiently but some minor lags were visible in between these tasks.
As far as the multitasking is concerned, we tried opening multiple windows and see how fairly it does handle the load. While everything worked smoothly, we noticed lags while browsing through internet in Chrome. We tried working with those apps closed but it still showed lag and the animations while shifting between windows was also slow. The Lapbook works best when you stay limited to less than 4-5 tabs t once.
The Canvas Lapbook offers 32GB in-built storage. Out of this 32GB, around 11GB is taken up by the OS. But, that's not something to worry abouty, there is an eMMC slot on the left, which can be used to ecpand with a card of up to 64GB if you are fond of keeping data in your notebook.
Display and Sound
It features an 11.6 inch display that seems standard in portable notebooks these days. The screen resolution (1366x768pixels) and it is pretty basic and nothing close to a great display. Despite the HD screen resolution, the display looks a bit pale, in terms of colour vibrancy and crispness. The viewing angles of the screen are not so good, you have to adjust the lid again and again while watching a video. But, it is still a good choice for students as well as basic users, who usually browse internet, read & type, or watch movies sometimes. The display is not touch screen, but it is not a problem on this device as it is designed to be used without the touch input.
While listening to music and watching movies, the sound output is quite sufficient for a laptop of this size. The speakers are placed at the bottom and produce decent loudness. The sound from the laptop can fill a small room without any issues, thanks to the Dolby powered speakers that are good enough to satisfy its users at this price.
Battery Stats
Micromax claims that the Lapbook offers 11 hours of battery backup. More or less, we agree to the claims and we were really impressed with the backup. Here is what we concluded while testing the Canvas Lapbook.
Watching a HD video with full brightness and sound – 6-7 hours
Casual Web browsing and MS-Office – 8-9 hours
Photo Gallery
Conclusion
At this price point, the Canvas Lapbook is not a a steal nor a bad deal. The performance is satisfactory considering the specifications and low pricing. It is not a bad choice for users who usually do basic stuff like web browsing and watching movies or using the MS Word for office.
If compared to the competitors, the Asus EeeBook which costs INR 1000 more, the Windows 10 works better on Lapbook. But the design and display quality is much better on the Asus EeeBook.