On the Indian Independence day, 15th of August 2015, the Prime Minister of India, Mr. Narendra Modi hinted at a programme called Startup India. It was the first time we got a glimpse of how destiny was in the process of paving its way slowly to recreate the golden bird that India once was. Five months down the line, the Startup India vision has gone official with Prime Minister Narendra Modi and Finance Minister Arun Jaitley finally launching the blueprint of the programme at Vigyan Bhavan in New Delhi.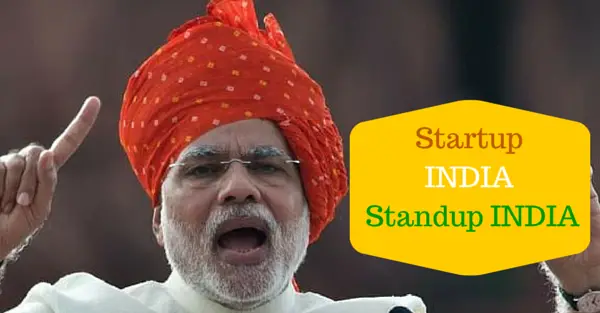 Startup India is a programme that tells us that the government will be offering its support to the people who wish to revolutionize the consumer industry with new products or ideas in support of the Make in India policy. We couldn't be happier for the amount of encouragement the government has offered for the industry and newcomers to make their mark. Hence, in this short article, we bring to you the 20 points that we think were the defining moments of this transformational launch.
The Human Resource Development Ministry and the Department of Science and Technology have agreed to partner in an initiative to set up over 75 such startup support hubs in the National Institutes of Technology (NITs), the Indian Institutes of Information Technology (IIITs), the Indian Institutes of Science Education and Research (IISERs) and NIPERs or National Institutes of Pharmaceutical Education and Research.
Startup action plan to give strength and inspiration to talented young India.

Will organize a startup fest to showcase and provide a platform for new ideas.
Annual Incubator Challenge – To support creation of successful world class incubators in India, government shall identify and select 10 incubators who have the potential to become world class. These incubators would be given INR 10Cr each as financial assistance.
A Grand Challenge Program (National Initiative for Developing and Harnessing Innovations) to support and award INR10 lakhs to 20 student innovations from Innovation and Entrepreneurship Development Centers.
Tax exemptions to startups for three years and concessions on capital gains tax.

Compliance regime based on self-certification and no regulatory inspection for three years to ease the process of development of start-ups.
A fund of Rs. 10,000 crore to back startups. Initially the amount will be Rs. 2,500 crore.
Credit guarantee mechanism through National Credit Guarantee Trust Company/SIDBI shall be rolled out with a budgetary corpus of INR 500Cr per year for the next four years.
Setting up of Startup India hub – a single point of contact for interactions with the government.
Atal Innovation Mission (AIM) for promotion of research and development including 500 tinkering labs, 35 public-private sector incubators, 31 innovation centers at national institutes, 7 new research parks, 5 new bio-clusters

To provide equal support to new and old startups, companies to be exempted from the criteria of prior experience or turnover without relaxation in quality
To provide 80% exempt, assist on patent filing applications using fast track mechanism.
A panel of legal facilitators for startups to file IP (patents, designs, trademarks) with costs borne by the government
Mechanism based on self-certification compliance for startups, which will not need any inspection for three years.
Focus on encouraging small ideas to expand their businesses and create jobs.
To make it easier for startups to exit by introducing a bankruptcy bill in the Parliament, providing 90 days for a startup to close down its business.
Relaxed norms of public-procurement for startups. No requirement of turnover or experience, but no relaxation in quality.
5 lakh schools and 10 lakh students to be involved in core innovation programme. National and international startup festivals to provide visibility.
A mobile app to be launched on April 1 making it possible to register startups in one day.
That's all we have for the Startup India initiative at the moment. We are looking forward to the 1st of April for seeing the mobile app launch and actually witnessing how easy things can be, just as claimed by our Prime Minister, Mr. Narendra Modi. We really hope that this move by the Indian Government helps young minds in the country to do something innovative and let the world see it!