Like everything from flight booking, to hotel booking or trip planning, the internet has revolutionized the meaning of travel and tourism globally. You can now easily book flights or hotels all by yourself in less than a minute inside the Indian boundaries or away. Earlier, this statement stood true only to limited places and budget, but at this point of time you have numerous choices and budget options to make a decision suitable to you in all the ways.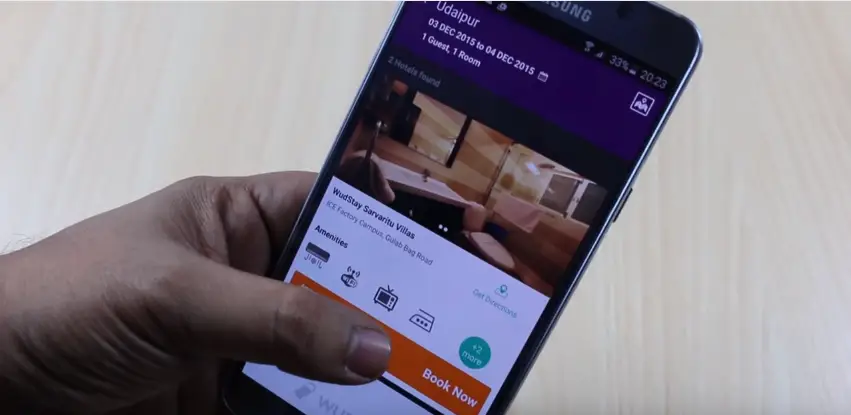 One emerging name which looks efficient to change the travel and tourism experience in India is WudStay, and it aims to provide affordable accommodation to travelers. The good thing is that it already covers almost 40 cities around India.
Wudstay Travel App Review and Features #iWudStay [Video]
App Usability
Before I start briefing you about the WudStay app and its features, I should tell you that you can also book a room with WudStay even if you do not have the WudStay app by reaching the WudStay website.
The app can be downloaded from App Store on iOS, Playstore on Android and Microsoft Apps store  and the application size is just 8.3 MB. App interface is quite user friendly and easy. The hotel booking procedure is pretty sorted and any first timer can easily use this app without an issue.
Features of the app:
See hotel location on the map
Sort hotels by price and rating
Filter hotels with differing price range, location and room type
Have a look at the hotel ameneties
Preview the pictures of the rooms and hotel
Hotel Booking Procedure and Experience
The app does not have any ads or pop up to interrupt while booking a room, which is quite good. You can book the hotel of your choice in 5 simple steps.
The very first screen asks you to choose the Location/City you want to book a hotel in.
Tap on the calendar icon on top of the screen to select the duration of your stay.
Once you have selected the duration, it will ask for the number of guests and number of rooms you want to book.
Once you are done, you will be redirected to a screen to review your booking details.
Tap confirm once you have reviewed the details, then you will need to enter your Name, Contact number and Email ID.
Submit the personal details and Phoooff!! You have booked the hotel room.
Staying with WudStay – review and experience
Our first stay was at WudStay Sarvaritu Villas, which was among the best hotels of that area. The check-in was quick and efficient, we just had to show the SMS that I received at the time of booking and we were led to our rooms in no time.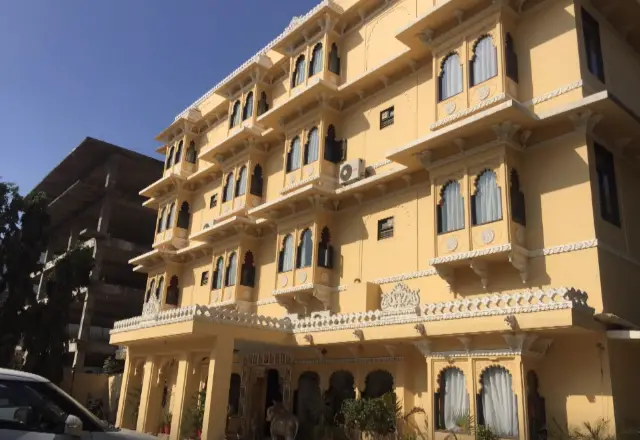 Services
The moment we entered the hotel, it was pleasant and the staff welcomed us with  delightful smiles. We did not feel any discomfort or any negativity around us; everything was just pleasing so that one could relax with no questions in the mind. The telephone was working fine and the staff was swift to deliver the services we asked for.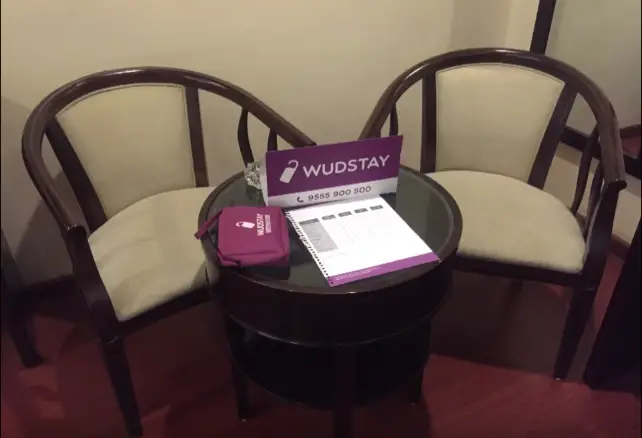 We made a checklist of few services and here is what convinced us:
Good quality linen
Clean rooms
Clean bathrooms
Air-conditioning
Wifi. The speed was acceptable. Not slow, not blazing fast either.
LCD/LED TV
A WudStay toilet kit – this has a few basic things like a toothbrush, toothpaste, soap, etc. Nothing fancy, but comes packed in a good-looking branded ziplock.
Room that matched the photographs? Yes, the rooms were the same shown in the images.

Cleanliness
The hotel lobby was very neat and clean, and it smelled fresh. Talking about the rooms, our beds were made nicely, sheets were clean and sanitary was also tip-top. Bathrooms were shiny and the room did not look like someone has used it before us. We were impressed with the overall cleanliness and hygiene.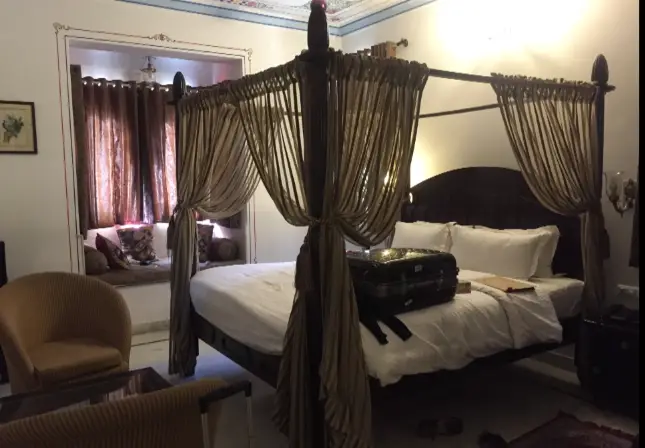 Food Quality
We did not eat much at the hotel but still we had some hot and cold beverages couple of times a day, and also had breakfast and dinner on the first and last day of our stay. Food tasted good, though it differs from place to place. We were in Udaipur and we tried their specialty of cuisine, it was mouthwatering and impressed us thoroughly, though the rates were a little higher than what we expected and added a little extra on our expenses.
Points of Improvement
WudStay looks like a well handled company which has impressed us with its services and the overall hotel booking experience. We can expect it to come up with great ideas and expand in more than 40 cities in coming time. Some points that can be considered to make the consumer experience better are:
Add more and more pictures of the hotels; limited photos do not give proper idea of the hotel.
Should partner with any cab booking service like Ola or Uber.
Add more information about the hotels, and also the user reviews and ratings in the app.
Conclusion
The property we chose to stay was one of the best in WudStay property in Udaipur. The price was very less than the actual price on the official website of the hotel. The hotel was spotlessly clean and maintained very well. Service was acceptable–nothing to boast about but nothing bad either. I have almost nothing to complain, and would be more than delighted to use the app again or recommend it to my friends and family. In a country where quality and cleanliness is difficult to ascertain with budget hotels, I would be keen to lookup WudStay whenever I need a budget hotel room.