Last week, Asus launched the Asus Zenfone Zoom in an exciting way in Agra, Uttar Pradesh. Their Zenfone Zoom caters to the people who want to take their mobile phone photography seriously by providing them with optical zoom on a smartphone! Asus boasts that the Zenfone Zoom is as good as a DSLR, but let's see how it holds up in actual scenarios.
Asus Zenfone Zoom Coverage
Asus Zenfone Zoom India Unboxing and Quick Overview [Video]
Asus Zenfone Zoom Camera Hardware
Since Asus is advertising the Zenfone Zoom as a camera oriented phone, it definitely has to pack some great camera hardware. The Asus Zenfone Zoom packs a 13-megapixel primary camera and a 5-megapixel secondary camera that you can use for selfies. The secondary camera is just as you would expect from a smartphone, but the primary camera is really what makes this phone stand out.
The primary camera features 3X Optical Zoom so that you can take great pictures even after zooming. It also packs Optical Image Stabilization and dedicated switches for clicking pictures and recording video on the right side. The camera's lens is a 10P Hoya Lens, which allows for better lighting on the camera.
Along with this camera hardware, you also get Laser Autofocus, which is surprisingly really fast in focusing on objects while taking pictures. It is much better than the PDAF we usually get in smartphones.
Camera Hardware Table
[table id=331 /]
The variable aperture on the Asus Zenfone Zoom makes it easier for it to capture great pictures and along with that, the Optical Zoom and Optical Image Stabilization help the camera in a great way!
Asus Zenfone Zoom Camera Software
The camera software on the Zenfone Zoom is similar to the camera software on previous Zenfones. It sports a clean UI, using which users can easily control their camera. You straightaway get options for auto or manual mode, where you can either control all the settings of the camera as you like, or have the camera software select them for you. Other than this, the phone also sports a lot of individual modes.
Camera Modes
The Zenfone Zoom features a lot of modes, just as shown in the image below. Each mode helps you take great shots under certain conditions.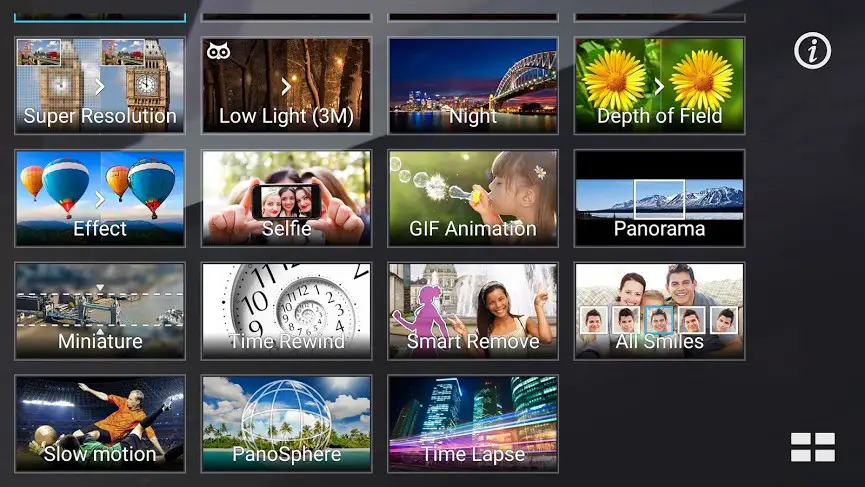 Super Resolution Mode Sample
Low Light (3M) Mode Sample
Optical 3X Zoom Shot Sample
Normal Image
3X Optical Zoom Image
HDR Mode Sample
Asus Zenfone Zoom Camera Samples
During our testing with the smartphone, we took quite a few pictures with the device and those pictures have been shared here. The camera does perform really good overall.
Front Camera Samples
The front-facing camera on the device is a 5-megapixel shooter, which takes some decent shots in outdoor lighting conditions, but in low light conditions, even outdoors, it does not take as good pictures as you'd expect a smartphone this price to take. Here are our samples using the front facing camera.
Rear Camera Samples
The rear-facing camera or the primary camera is the main attraction of the device, and this camera does perform really well. We tested the camera in various lighting modes and drafted our result as follows.
Artificial Lighting
When we tested the phone in artificial lighting, the camera performed well, just as we had expected it to perform. Other than that, nothing surprising on the artificial lighting front.
Natural Outdoor Lighting
As it is expected of a phone this type, the phone performs really well in outdoor lighting conditions. We took the phone for a spin the next day itself after it was launched, and we clicked a lot of pictures of the Taj Mahal. All the pictures came out really good.
Low Light
In Low Lighting condition, the phone again performs decently. We tried the low lighting mode along with Flash, the auto mode, and Low light (3M) mode and each of the modes did perform as expected of them.
Asus Zenfone Zoom Camera Verdict
The Asus Zenfone Zoom's primary camera performs exceptionally well, no doubt there but it would have been good to see a better secondary camera. The secondary camera does not capture good details like we would want it to. All in all, if you don't click so many selfies, the Zenfone Zoom can prove to be a good photography smartphone for you!